Japan – FRAN PICKERING – Blossoms and murder
It's a lovely sunny day here at Booktrail towers and we have a lovely lady coming over for a cuppa and a cake – Fran Pickering author of the Cherry Blossom Murder which we feature in a booktrail has come over to see us for some cake (cherry of course) and a cuppa of Japanese tea…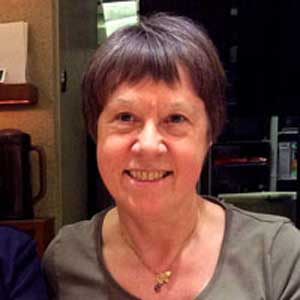 Hi Fran.
Here, you sit there, I've fluffed up the cushions – now you have a choice of cakes today – cherry cake I made or a cherry bakewell or a cherry pie (I got a bit carried away after watching the Great British Bakeoff yesterday)… Why not have a taste of all three?
Your book The Cherry Blossom Murder, is really evocative of Japan and I'm intrigued to know what your connection to Japan is and your interest in it?
I've always been interested in Japan but never expected to actually go there – it always seemed impossibly far off. But then my husband and I took our courage in both hands and went there for a short holiday and found we liked it so much we kept going back. We made a lot of Japanese friends and learned to speak and read Japanese, which led to my being sent there as part of my work, so it just grew and grew. Now I think of it as a second home.
How did you research your book? By going to the places that you mention in it?
I didn't need to – I knew the places so well already. I've been a member of a Takarazuka fan club like the one in The Cherry Blossom Murder since the 1990's and I visit Japan often to see the shows and catch up with my friends, so the settings came naturally. If there were any details I couldn't recall I'd check them on Google street view. Places I describe in Tokyo are based on places where I used to live and work, and Josie's friends are composites of people I know. I've been to Takarazuka in cherry blossom time and it's so lovely. This picture is of the Flower Path, near where Mai-chan's body is found in the book.
Takarazuka Revue
The Takarazuka Revue is amazing – four hundred actress putting on spectacular song and dance shows with fabulous over-the-top costumes twice-daily in two massive 2,000-seater theatres, one in Tokyo and one in Takarazuka town, just outside of Osaka. It's so popular they even have their own television channel. All the actresses are young and so talented. The stars are hugely popular, especially the ones who play men in the shows; hundreds of fans wait outside the theatre to see them arrive and leave. It's the opposite of the kabuki, where men play women, just like actors used to do in Shakespeare's day. This is year is the Takarazuka Revue's hundredth anniversary, so I just had to go over and see a show.
What is your character, Josie, like?
Josie likes to think of herself as  a down-to-earth, feet on the ground sort of person, but actually she can't say no to the chance of an adventure, like going to live and work in Japan, or investigating a murder. She knows she's an oddity in Japan because she's so tall, but she tries hard to fit in and be accepted, and she's secretly rather proud of how well she speaks Japanese. She has a long-term English boyfriend, Dave, who she cares about more than she likes to admit and she misses her Mum back home in London, but she's determined to make a success of her Japanese life.
You write a blog about the Japanese related events and places to visit in London. Where can we go to read The Cherry Blossom Murder to place ourselves in Japan?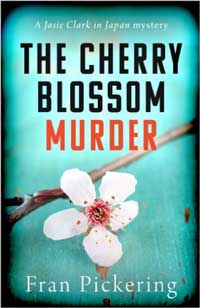 I would suggest the Kyoto Garden in Holland Park. It's a beautiful and calm space with a waterfall and a lovely little lake where colourful carp swim. There are stone Japanese lanterns by the lake and a little bridge that you can walk across.
Or else, if you're lucky enough to be reading the book in cherry blossom season (roughly early to mid-April), then I'd suggest Kew Gardens. It has dozens of varieties of cherry trees and the great white cherry in the Japanese landscape garden is a fantastic sight in full flower.
Or, if you prefer to stay indoors, you can find some great Japanese restaurants in London. I'd recommend  Koya in Soho for wonderful noodles (but be prepared to queue) or Sake no Hana on St James's Street for excellent sushi and sashimi.
What should we eat and drink when reading your book? (any Japanese delicacies that you want to tell us about?)
Josie loves Japanese food, and she has a lot of typical Japanese meals while she's out and about investigating the murder.  In meetings at work the office lady will often serve green tea with mochi (little buns filled with sweet bean paste). Josie has a bad coffee habit but she also likes Yuzu tea (yuzu is a sort of cross between a lemon and a mandarin orange). So I would suggest Yuzu tea and green tea chiffon cake like the one Josie has at cafe West in Ginza.
Ooh please tell us about your next book!
My next book is called The Haiku Murder and it's coming out this October. Josie goes on a haiku-writing trip to Matsuyama in Shikoku, the smallest of the five Japanese islands, and one of her party falls off the top of Matsuyama castle and is killed. Everyone thinks it's an accident, but Josie knows it's murder and her investigations lead her to uncover a web of deceit with money and jealousy at its heart. Who'd have thought that poetry could be so dangerous?
Susan booktrailer
Booktrail Boarding Pass Information:
Twitter: @franpickering
Web: @franpickering.com