The chills and thrills of Icelandic fiction
There's a lot to be said for Icelandic fiction. An island country, with a language that is only spoken by 330.000 people. We completely rely on translators to get our work to a wider audience. Jónína Leósdóttir has popped over to TheBookTrail today to shed some light on the future of fiction there, and her books….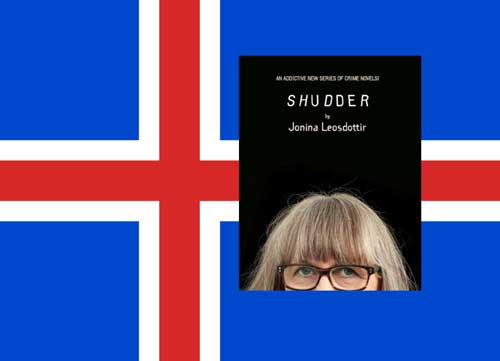 The writing journey
I have translated some books from English into Icelandic, for example two novels by Ruth Rendell.
I wanted to become a full-time writer, but for about 15 years I was a single parent so I simply couldn't afford to give up my day-job as a journalist and editor (first at weekly magazines and then at a women's magazine). So, during the evenings, weekends and holidays I wrote "my own stuff" … until I left journalism in 2006 to concentrate on writing novels.
My first book (a biography of a pastor in Reykjavik) was published in 1988 – and my 15th book is out now! I have written both fiction and non-fiction, for adults and young-adults. Plus some plays, mostly for TV and radio.
All my work, both novels and plays, are about HUMAN RELATIONSHIPS … in some way or form. I love people-watching and figuring out what makes people tic … and how they relate to others. So, I write about friends, work-mates, parents/children, siblings, couples etc. etc. It is an endless source of material.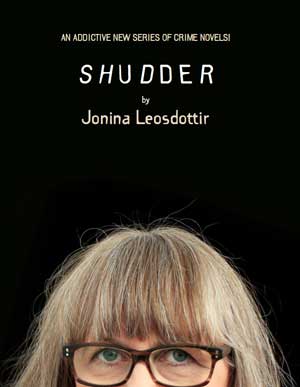 Shudder the new book.
The crime novelist, Quentin Bates, has translated a few chapters of SHUDDER into English. He is absolutely wonderful. He sends me the text and allows me to voice my opinion, which I am very grateful for – although, of course, he is the native speaker and I am not. Sometimes, I ask him to change one or two words … and invariably he takes this very kindly and comes up with a much, much better idea than I had.
I think Icelandic fiction is simply very good. That is why it has become popular around the world. But it is a huge challenge to write in a language that is only spoken by 330.000 people on an island in the North Atlantic. We completely rely on translators to get our work to a wider audience.
The Brit-Noir authors that I like most are Sophie Hannah, Ann Cleeves, Val McDermid, Mari Hannah and Quentin Bates. And I am lucky enough to have met them all, at Newcastle Noir and Iceland Noir. And I must add Nicci French (the husband and wife team). Oh, there are so many!
What do you eat and drink to inspire your writing/when you're writing?
I only drink tea at home – either Assam or Kenyan tea and lots of it. And then I have one strong cup of cappuccino at a café in the afternoon.)
The food would definitely have some cheese in it. I absolutely love cheese, anything with cheese! And as I have been a vegetarian for around 30 years, I would definitely have anything with meat or fish in it. (But as my passion for cheese reveals, I am not vegan.) Oh, and perhaps a biscotti with the coffee.
The Icelandic Women's Literary Prize

I established The Icelandic Women's Literary Prize ten years ago – along with a small group of female writers (both of fiction and non-fiction).
At first, some people were sceptical, but the prize has become well established now and extremely respected. And the books that have won the prize are amazing. (It's awarded in three categories: Fiction, non-fiction and children's and Y/A fiction.)  But I have retired from the executive committee now, and have become an honorary member of the association that awards the prize.
Something about Iceland that you might not know … hmmmm?
Well, the national motto is THETTA REDDAST! (With an exclamation mark.) It means something along the lines of: "Don't worry, everything will be OK!" This describes the general attitude in Iceland and our approach to problems of any kind, small or large. We believe every problem can be fixed.
Perhaps, this is because our ancestors had to be brave and have the attitude of "survivors" to be able to exist on an island up north, with very little daylight in the winter and huge forces of nature at work all the time. I don't know … it's just a guess.
But you will find people with this mind-set in all walks of life in modern Iceland, and that can be absolutely wonderful.
Thank you so much for stopping by today and showing us how wonderful and exciting Iceland is!  Looking forward to reading more Icelandic fiction!