Liselotte Roll – Sweden, Argentina – Good Girls Don't Tell
Liselotte Roll is flying all over the place for her book tour and so has very kindly popped into the Departure Lounge on the Booktrail. Good Girls Don't Tell eh? I'm going to see if this one does as I have a few questions for her. We are eating Chocolate cake and homemade apple juice – her two favourites. This Fika is one of the best I've had!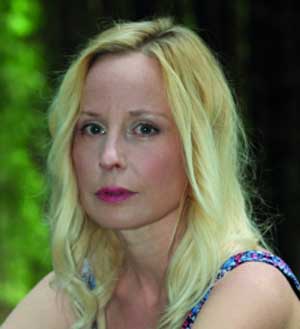 I am a Swedish archaeologist, journalist and author. My first thriller "Good Girls Don´t Tell" has just been launched in the UK and in seven other countries. I have published two books in the Kalo-series and have a third one in my drawer. The main characters are Linn Kalo, a smart therapist in her thirties and her husband, the somewhat slow minded, but kind Inspector Magnus, they have two little girls and find themselves in a dangerous situation when a murderer, prone to scalding his victims makes them his main target.
My writing initially sprang out of some misery, I'm afraid. I would probably never have been a writer or especially a dark-minded crimewriter if I hadn't grown up with an alcoholic parent and had some issues to dig into, or if I hadn't taken a year off from my job as a newsreporter to take care of my son who was hypersensitive to infections when he was younger. I managed to write my first book in that year, during his naps.
Where do you love to write?
Most importantly I need to be alone. When I get a story in my mind it is more or less like watching a movie, and it takes some time to get back on track when interrupted. It sounds boring and anti-social but it's the way it is. I can write anywhere, but prefer to do it at home, on our sofa or in the kitchen. If I need to solve a really challenging logic problem I like to do it in the tub.
Where do you set your book and why?
In a snowy, nowadays Stockholm in the suburbs, mainly in Åkersberga which happens to be where I live. It is in many ways a typical Swedish suburb and it also feels like a small town anywhere in Sweden. There are worse and better neigbourhoods but I know it well. My main characters Linn and Magnus lead an ordinary life here until Magnus, who works as an Inspector gets involved in the case of a manipulating murderer, from then on their lives are thrown into disarray and to have a chance of survival they have to follow the trail all the way to Argentina and the Military regime.

Why did you want to write about the Argentinian junta?
Prior to my work as a news reporter and scriptwriter for a kids show in public radio I worked as an archaeologist. It was during that time, in the late 90's that I visited Argentina and La Rioja. A medium size city embedded in the Pre-Andees. I was part of a pre-Incan excavation, looking for the remains of the locally called "Leopard people". The generous Argentinians made quite an impression on me.
Initially I stayed at a self-proclaimed Shaman woman who had an altar of Marilyn Monroe in her hallway and a dog kennel in her house. I thought it was interesting and exotic, but my colleagues at the Patrimonial Cultural were concerned. They argued that her house wasn´t clean enough, the dogs had some accidents and that the woman was deranged. Eventually a colleague invited me to stay at her house and we became good friends, and still are.
My friend told me stories about the military junta and took me to a cemetery where young men who had died during the military regime were exposed in glass coffins, to always be remembered. It was emotional and I think that's why, ten years later I came to write Good Girls don´t tell.

Do you have any rules or tips about writing?
For me personally, and I know that this can differ, I don´t like to stick to rules, in fact I have struggled my whole life not to, in many ways. This is not the easiest way to live though and is probably true for writing as well, but for me, my creativity flows better without strict rules. Of course you can´t write a story without a proper beginning, and a great end, but that is true in any good story. Then there are rules when it comes to language of course, but when you master it, you should not be afraid to bend them.
And just then, her flight is called so she heads off to Gate 23. She's left a postcard on our table with a message about her book:
"Tortured souls are dangerous. Clues seem to disappear under the falling snow when a family realise that they are being stalked."
Turns out Good Girls do tell after all.
Author/guide: Liselotte Roll Destination: Stockholm,Norrtälje, Buenos Aires, La Rioja Departure Time: 2000s