Travel to Kololo Hill with Neema Shah
Travel to Kololo Hill with Neema Shah
Author Neema Shah, creator of the wonderful Kololo Hill novel, is here on The Booktrail to talk about this amazing read. A novel that BookTrailers absolutely have to read as the setting is quite something to explore. Plenty of history and culture to immerse yourself in as well.
So, why did Neema Shah write this book and decide to take readers off to Kampala and Uganda?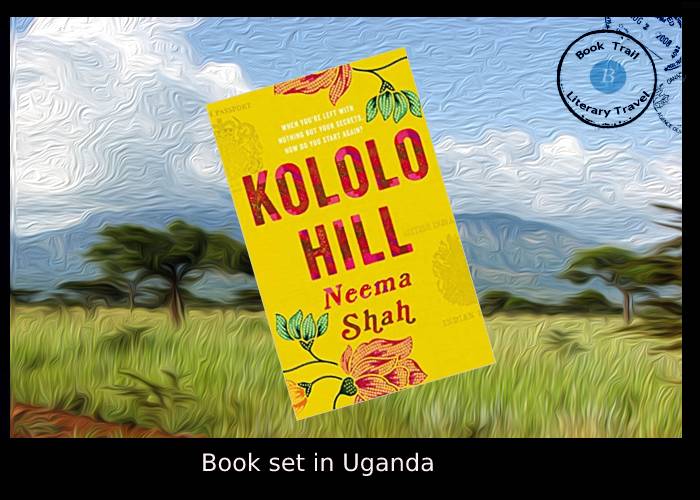 Growing up, I particularly loved reading books that transported me to far off places, from the Canada to Chile to India. Yet no matter the setting, I rarely saw traces of myself portrayed in the novels I read. I'd always considered my second home to be East Africa, where my parents were born. My grandparents had left India during World War 2 and they were so-called 'twice migrants'. They had roots in one country, built a life in another and moved to a third. Where were our stories on the bookshelves?
There was also a wider story, one that very few British people seemed to even know about, unless they recalled the news reports from the early 1970s. 80,000 Ugandan Asians were expelled by brutal ruler Idi Amin with only 90 days to leave. This story always fascinated me. I'd often wondered, even as a child, what it would be like to leave everything you know and love behind, to start again. When children at school told me to 'go back to my own country', I spent a lot of time wondering where my 'own country' was? I'd think hard about what my family would do, where they'd go?
Decades later, I finally had the opportunity to explore those questions through my debut novel Kololo Hill.
The title of the novel is the name of one of the seven hills in Kampala, Uganda. My story looks at  a family who live on the hill. Recently-married Asha and her husband Pran are forced to leave everything behind except their devastating secrets. I wanted to evoke the feeling of living in Uganda, widely known as the 'Pearl of Africa' and what it must have been like to be forced out.
The settings in the book include the botanical gardens at Entebbe and the banks of Lake Victoria ' where crotchety maribou storks with their black feather cloaks gather in the shallows.'
I've also included flashbacks to the small Indian village that Jaya, the matriarch of the family, leaves behind. I used these settings to contrast with the new places that Jaya experiences in Africa. I describe how she watches the Gujarati port of Porbandar 'recede into the distance, fishing boats and harbour shacks getting smaller and smaller until they looked like children's toys. The way that the light hit the water, sea became sky, sky became sea, swallowing her whole, drowning in blue.'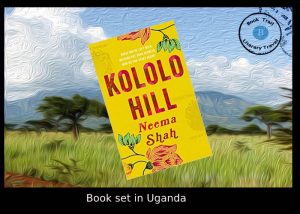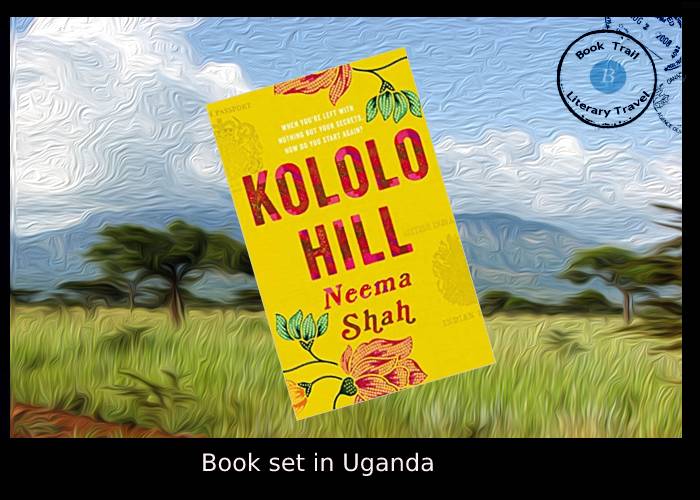 Later in the book, the story moves to London, where 'the fat moon made the snowflakes glow so bright that it looked like the stars had fallen from the sky'. As a born and bred Londoner, I wanted to show the city in all its guises such as how blue plaques around the city capture certain moments of history. It was important to me to include 'uncommon' settings in fiction such as Bounds Green's terraced houses and Art Deco tube station.
I also thought it important to shed light on the unique culture of East African Asians. Our Gujarati is infused with Swahili words, our food has been adapted to make the most of local East African ingredients, such as corn on the cob curry cooked in coconut milk. Food is also of course a way for the characters to connect with their homes, even when they can no longer live there.
I've always loved escaping to different places through fiction and I hope that readers of Kololo Hill will be able to do the same.
Thank you so much Neema!
BookTrail Boarding Pass:  Kololo Hill
Twitter: @NeemaMShah