Nicola Pryce's Cornwall
There's a lot to love about Cornwall – Poldark is back on our screens very soon indeed so what better time than to head to Cornwall and immerse yourself in the landscape, setting and sense of time and place that only Cornwall seems to have…
Nicola Pryce takes you on a very interesting tour in her three Cornish saga books:
1793: Pengelly's Daughter takes place in Fowey and Polruan on the south coast of Cornwall. I call the towns Fosse and Porthruan.
Rose Pengelly meets Jim by a tree in moonlight on the cliff path above Polruan
She and her mother live next to the dairy in Fore Street, Polruan. Pengelly's Yard is one of the warehouses with a slipway to the water's edge. Rose feels she cannot trust Thomas Warren and goes to the auction in the Ship Inn to watch him bid for the creek. The Ship Inn is on the corner of Lostwithiel Street.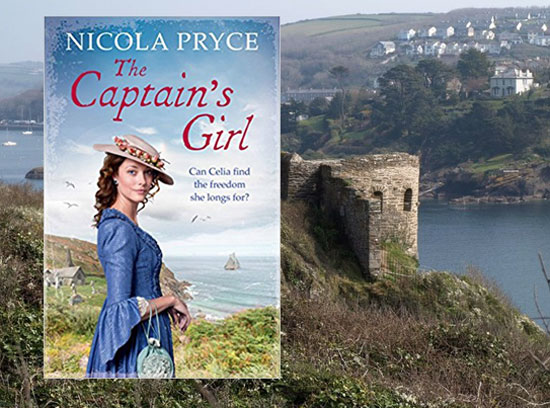 1793: The French Revolution is threatening the stability of England….
Celia Cavendish and her family live in Pendenning Hall on the Polruan side of the River Fowey but I have based the description of the house on Pencarrow – a beautiful house five miles north-west of Bodmin. Both the exterior and interiors are based on this fabulous house. Porthruan Church  is in reality the beautiful church of Lanteglos-by-Fowey
When Celia arrives in Bodmin, Matthew Reith directs her to stay in Mrs Hambley's guest house in Lower Bore Street while she awaits the trial. Here she meets Hannah Hambley who takes her under her wing. They bend pins and wish in the wishing well. NB The courthouse in Bodmin was built after my story. The trial takes place in the old Medieval Friary House.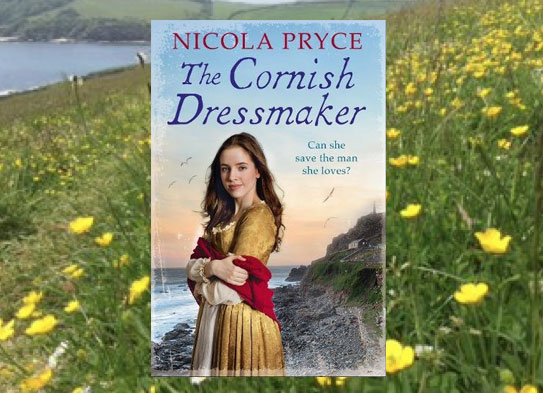 1796:
Seamstress Elowyn Liddicot's family believe they've secured the perfect future for her, in the arms of Nathan Cardew. But then one evening, Elowyn helps to rescue a dying man from the sea, and everything changes.
Elowyn Liddicot spent her childhood as a fisherman's daughter in Mevagissy but now lives in Coombe House in Fowey (the large red brick house where North Street meets Passage Street) and works above Pengelly's Boatyard in Fowey.
Charlestown is being built round the new sea lock which enables ships to use every tide. The china clay is beginning to show a profit and investors are coming forward. Agents from the potteries in the north are seeking the whitest clay. (Charlestown Shipwreck Museum tells the story of how the clay was shipped.)
The clay needs to settle in settling pits before being separated and dried. William sends Billy up to the see the leats while he talks to Elowyn. (You can see the settling pits and the implements they used to dig the clay in the fabulous Wheal Martyn Museum near St Austell)
Thanks Nicola! A wonderful way to explore Cornwall!
Twitter: @NPryce_Author  Web:nicolapryce.co.uk/