Travel Chemical Cocktail locations with Fiona Erskine
Travel around the Cocktail BookTrail
Departure information: When Jaq Silver's mother dies, she is handed a poisoned chalice. An inheritance more valuable to her than she could have imagined. Travelling from Portugal to Brazil amid conspiracies and corruption to get to the bottom of her family mystery, Jaq learns she is not the only one with an interest in her unusual inheritance. Racing against the clock as the threats to her life increase on all sides, Jaq must use her scientific know-how to save what matters most…..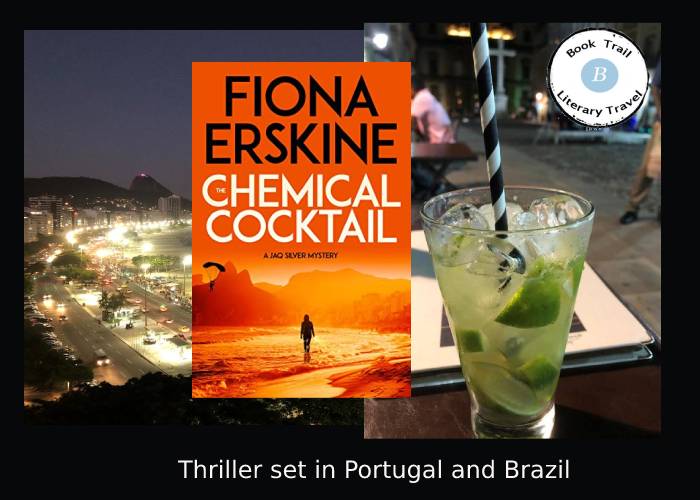 Allow author Fiona takes you on an journey….
My latest book, the third in the Jaq Silver series, is mainly set in Portugal and Brazil, places where I lived and worked in my day job as an engineer.
The Chemical Cocktail opens and finishes in Santa Catarina Island, near Florianopolis in Southern Brazil. Jaq Silver is preparing to spend Christmas at the beach with surfer Mercúrio.
Brazil has 8000 kilometres of beaches, and I've visited a few while travelling from Santa Catarina in the South West to Baia in the North East.
I don't deliberately sit down and think – how can I create a sense of place? Rather, I put my characters in a location I know well and observe how they react. I get to experience places – the scents and sounds, the sights and tastes all over again through their eyes. It's a part of the writing process that I really enjoy.
The Cocktail that features in the title of the book is the famous Caipirinha. Ice, lime, cane-sugar and sugar-cane rum…delicious!
Brazilian TV is fascinating. Back in the 1980's when I lived in Lisbon, I improved my Portuguese by watching Brazilian soap operas like Roque Santeiro. The Chemical Cocktail features a Reality TV show host inspired by real life TV journalist Wallace Souza who was accused of trying to improve ratings by staging the crimes his news channel filmed. The name of my invented TV show – Os Desparacedios – The Missing – came from the missing cat poster in Salvador above.
Salvador de Baia was the first Portuguese capital of Brazil. It's a wild mix of the ancient and modern.
My favourite hotel in Salvador overlooks the container port. I spent a lot of time interrogating the ShipTracker App on my phone to discover where the ships had come from, where they were travelling to and what they were carrying.
Salvador also has a grim and shameful history.  Between the 16th and 19th centuries, 5 million Africans were kidnapped and transported to Brazil where they were enslaved and forced to work, initially on the sugar plantations.
São Paulo is almost impossible to photograph. It's not really a city, more of a megalopolis, a city state housing over 20 million people.A kingdom of the car, it has no provision for pedestrians and poor public transport, resulting a crazy snarl of traffic. It can take 4 hours to cross São Paulo so the super-rich travel but helicopter. But don't be put off; it may be ugly but it's vibrant and busy and absolutely fascinating.
Rio de Janeiro, on the other hand, is breathtakingly beautiful – Copacabana beach, Rio de Janeiro by night
Christ the Redeemer statue from Rio de Janeiro botanical gardens
Rio is also one of the most desperately unequal cities in the world. There is a very thin skin between the beautiful beaches and their luxury hotel and the hinterland. You walk one block and everything changes, the mosaic of menace relying on armed police patrols to stop the powder keg of inequality from exploding.
Bubbling under the deceptively beautiful surface of Brazil an entrepreneurial war is raging as 200 million people fight to make a decent living or find a niche to exploit: from agricultural labourer to illegal miner, from ticket tout to thief, from beach hawker to drug dealer, from Pentecostal preacher to swindler, from TV news journalist to assassin, from petrol pump attendant to money launderer, from politician to extortionist.
Brazilian bureaucracy is Dickensian in its obfuscation and circumlocution, to the extent that a despachante – a fixer – is often required to smooth perfectly legal transactions. This is no meritocracy where hard work and education pay off, this is a land of contacts and hussle. And hussle slides into criminality as smoothly as a chilled Caipirinha.
What better place to set a thriller?
Twitter :     @erskine_fiona      web: thechemicaldetective.blog/