Travel to a dusty theatre in Hull with Louise Beech
See the play I Am Dust  in a theatre with Louise Beech
This has to be one of the most chillingly and exquisitely plotted novel I've read in a while. It's set in a  theatre and is about a play that is about to return to the same place where it used to play. Only the last time it played, an actress was found murdered…
Is is a good idea to have such a play return in the same theatre? Will this not bring bad luck? What will this do to the actor who take on the role of the dead? What is that strange feeling and presence in the corridor? Would you dare enter this theatre at night? Sssh, the night of the first show is approaching..
Blimey….when I wanted to talk about this book, Louise decided to invite me to a theatre, at night….. For full effect she said. It"ll be grand, she said. I only entered that theatre as it was Louise Beech who was with me. Plus she had stories to tell….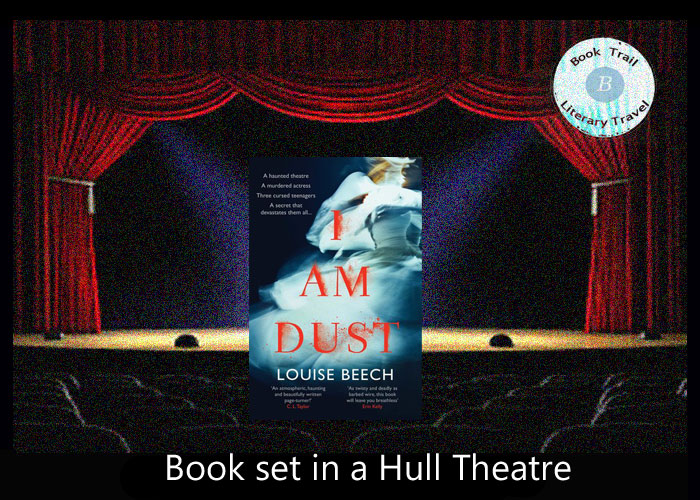 So Louise, you work in a theatre…tell me this is not based on real life. Anything to tell us?
Haha. Like secrets? I guess you could say that more drama happens backstage then on stage. With a very transient crew – actors coming and going – there are plenty of relationships! That's all I'm saying.
Tell me your theatre isn't haunted?
Ours is quite a new theatre, only ten years old. To be fair the one in my novel, I Am Dust, is only twenty years old. I haven't heard any spooky tales, but it can be very creepy, especially when you're alone, backstage, late at night. I can't say I haven't heard the odd unexplained sound – a closing door, footsteps, voices…
Why do stories like this fascinate readers do you think?
I think we're all intrigued by what exists beyond us. Are there ghosts? Where do we go when we die? We like the unexplained, don't we? A mystery. We love to be scared. It's like when we're kids, and we share ghost stories in the dark. That morbid fascination never dies. I wanted to tap into that.
What do you do as an usher?
We are entirely responsible for the theatre patrons. We want to make sure they have an enjoyable evening – but there's always the chance that we also have to get them out if there's a fire. Our other role involves handing out tickets, giving directions, and dealing with any problems,. There's more to do which is equally as necessary: get latecomers into their seats as quietly and efficiently as possible, clear up at the end, and of course do the dreaded phone checks. We have to be very on the ball when patrons use phones during a show. I will never understand why people do. Not only does it disturb the rest of the audience, but it can distract actors on the stage. This ain't a music gig, people!
What is it like behind the scenes of a theatre?
Busy. Hectic. Exciting. There are so many roles involved in getting a show on. The technicians, the wardrobe people, stage managers, producers, writers…
The supernatural parts of the story are very creepy. How did you create/research them?
I did a Ouija board when I was a teenager and it freaked me out. I've never forgotten it. I think most teens dabble, don't they? But we got utterly hooked and some strange things happened – phones ringing constantly, dogs barking at seemingly nothing, doors being knocked on, a curious feeling of being watched. We ended up seeing a priest and he took us very seriously.
Funniest story/something that has happened in your theatre.
I have ended up on a poster! Often, when a poster for a show is created, the actors haven't been chosen yet so they use models. I was asked to pose for an upcoming show called Two. I may well end up on the side of the building. The amount of people who have asked me if I've taken to the stage… Well, never say never.
Best thing about your job and the toughest?
The best part is seeing all the shows. Working in such a creative environment. The worst? Picking chewing gum off the seats at the end.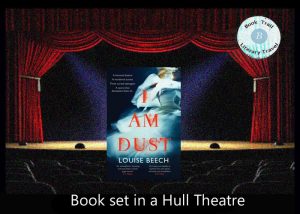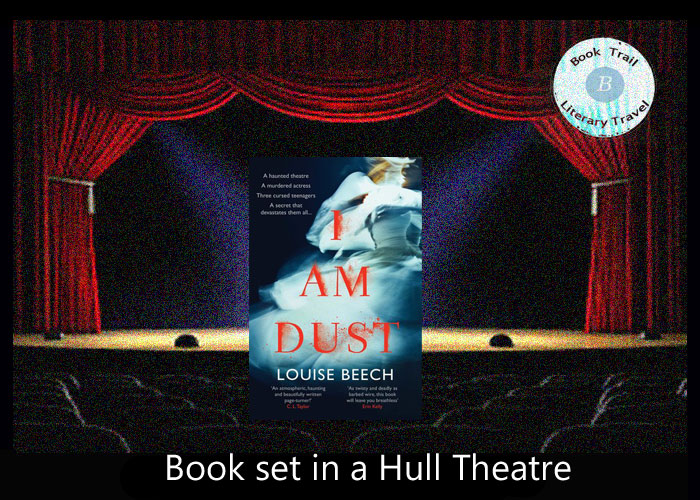 With that, the show is over so I take a bow, leave stage left and applaud Louise Beech even more now that I feel I have an extra appreciation for this novel. I think I sense her following me out of the theatre so I turn…but there is no one there. Walking down the corridor, the lights suddenly go out so I have to feel my way to the door. I manage to  get to it but it's stuck tight. Locked? There's only me and Louise here and she's left already, hasn't she? What's that noise? Then suddenly, a breath against my neck…
"I need to lock up now" says a voice. There's Louise standing there with a bunch of keys. You can take the girl out of the theatre…….
Twitter:@LouiseWriter   Web:louisebeech.co.uk/