A testament to the Holocaust
A visit of The Testament, a book by Kim Sherwood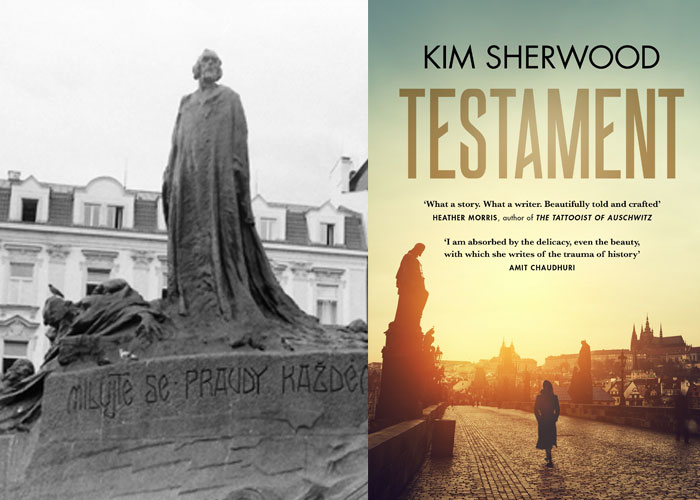 My debut novel, Testament, is about the impact of the Holocaust on three generations of a family. One of my characters, Zuzka, is a young Jewish Czech girl, who we first meet after the liberation of Theresienstadt, the concentration camp and ghetto outside of Prague. I spent time in Prague getting to know Zuzka's culture, and following in her footsteps as she returns home.
The Prague Jewish Museum is made up of five synagogues and Europe's oldest Jewish graveyard, which together tell the story of Jewish life in the Czech Republic. Pinkas Synagogue stands as a memorial to victims of the Nazis, with 77,297 names painted on its walls. A line from Lamentations marks the entrance: 'Let it not come unto you, all ye that pass by! Behold, and see if there by any pain like unto my pain…' For me, this evokes what art can do, inviting us to empathically step inside the pain of another.
Though Jewish Prague is most visible in Staré Mesto, the suburb of Vinohrady with its pastel Art Nouveau apartment blocks has its own Jewish story. Vinohrady was home to the largest Jewish community in interwar Czechoslavakia, and one of the biggest synagogues in the world. If you walk the streets today, you will notice Stars of David mosaicked into the pavements. The Synagogue was used as a confiscation office by the Nazis, and then bombed by Anglo-American forces, before finally being destroyed in 1951 by the Communist government. This is where Zuzka grew up, her family apartment overlooking Grébovka Park, where she climbed amongst the vines and played in the grottoes. If you go to Belgická Street, you'll find a Jewish school today in a building that housed child survivors returning from Theresienstadt, Zuzka with them in my story.  If you turn into Záhrebská, you'll be able to find the plaque that marks the site of the synagogue, which Zuzka finds destroyed.
Grébovka Park. Photo by Kim Sherwood.
Theresienstadt
Theresienstadt – or Terézin, in Czech – is an Austro-Hungarian fort town an hour outside of Prague. The Nazis turned the town into a ghetto and concentration camp, through which 150,000 people passed on their way to the death camps. Theresienstadt was also the centre of Nazi propaganda, with shop fronts, concerts and food all fabricated to fool Red Cross inspectors into believing that – as one propaganda film put it – 'The Führer Gives the Jews a City!' It is hard to conceive, until you walk the almost abandoned streets of Theresienstadt, what it means for a whole town to become a prison. When you imagine the 12,000 people squeezed into attics alone, you begin to get a sense of the sheer push of humanity kept confined in these huge earthen walls. Zuzka escapes deportation to Auschwitz here, but loses both her mother and uncle.
The Old Town Square
After liberation, the child Survivors of Theresienstadt were looked after by the Red Army and then the Red Cross. While international powers deliberated who would accept these orphans from across Europe as refugees, the children were sent to Prague, where locals gave them free tram rides, cinema tickets and meals. Three hundred of them gathered in the Old Town Square to take a photograph in front of the Jan Hus statue, which would be published in international newspapers in the hopes that family members might recognise their children. Zuzka is part of the photograph. Around the base of the statue runs the line: 'Live, nation sacred to God, do not die. Love one another, do not deny the truth to anyone'. The question of how to live on, and what to do with the truth of their experience as Survivors, follows the characters through Testament.
Holešovice
While a lot of my site-based research involves walking in the footsteps of my characters, I also learn about their culture more widely. If you're going to Prague, I'd recommend the Holešovice suburb, where a DIY arts and crafts culture is reviving an impoverished neighbourhood. I learnt here about Prague culture old and new, discovering artists like Jakub Schikaneder, who showed me Zuzka's loneliness, in the Veletržni Palác gallery, and contemporary craft in Vnitroblock arts centre. The Palác is filled with the voices of artists and writers, and I gained a sense here from two Czech poets of how their people survived such long oppression. Jaroslav Vrchlicky: 'To long for something is a sufficient reason to live.' Jaroslav Seifert: 'If we wanted to spit on the sun, it would go out.'
5. Divoká Šárka
As I create my characters, I seek out aspects of their childhoods, and I went to Divoká Šárka nature park in Zuzka's footsteps. It's hard to move in Prague for the swell of tourists, and if you are trying to experience life outside of the tourist trade – and to escape the sweltering heat – I'd recommend walking through the rocky forest to the almost hidden Šarka pool, where you will most likely be the only native English speaker. Here you can spend the day swimming against the backdrop of the mountains. There are worse places to write.
With many many thanks to Kim for such a personal insight into the novel!
BookTrail Boarding Pass:  Testament
Twitter:  @kimtsherwood