Travel on The Greek Holiday with Maeve Haran
Travel on The Greek Holiday with Maeve Haran
There is a treat instore today with a guided tour around Greece with Maeve Haran! A sunny read is what we all need right now. Greece is the word and what better person to talk to us about it than Maeve!
I had such fun researching and writing this book because – like my four heroines – I first visited the Greek islands when I was eighteen – fifty years ago! At that time it was a big brave adventure, rather like travelling to Colombia or Goa is to our children's generation. Of course they were very different then.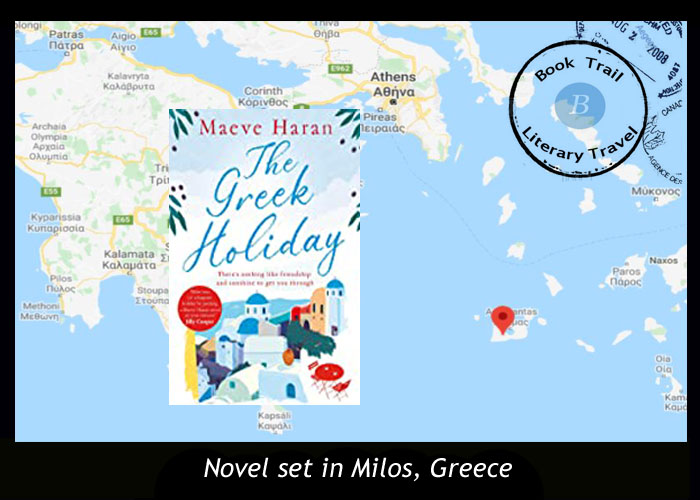 Lindos on Rhodes, which was the inspiration for the first place they visit, simply consisted of a village square, surrounded by steep little tracks from which donkeys would emerge, laden with enormous loads, labouring up and down. There were a few cafes. Our favourite actually had a jukebox and we played Black Magic Woman, its only rock track, over and over again. Naturally it had to feature in the book!
There was also the most glorious beach, under the shadow of the beautiful Acropolis, with white golden sand and a sign up saying No Hippies, which was hopeless as most travellers to Greece were hippies then.
We stayed with my brother's friend who rejoiced in the name of Hairy Richard, drank lots of cheap Retsina and ate divine Greek yogurt with honey, another thing that features in The Greek Holiday.
It came alive at night with hilarious 'nightclubs' that consisted of a few tables and chairs a terrible sound system and a few 45's.
It was quite a shock to return last year. Lindos remains beautiful but it is now on every tour bus route and cruise excursion out of Rhodes Town.  The huge car park is jammed full of coaches all day. This was very disappointing for our four friends whose rental flat overlooks it. There is a bank of eight cash machines now in what was the village square. Groups of eager tourists follow guides with raised umbrellas like tadpoles in a pond.
My heroines are disappointed that the tiny unspoiled village is no longer the same, so they set back off for Athens. Then, just as happened to me all those years ago, one of them gets food poisoning and they are put off in a small boat at a tiny island.That island was Milos and, amazingly, it remains unspoiled even though it's quite near Santorini, probably the most visited island in the Aegean.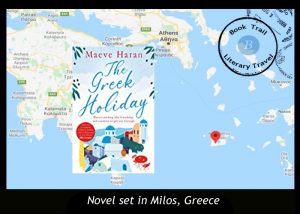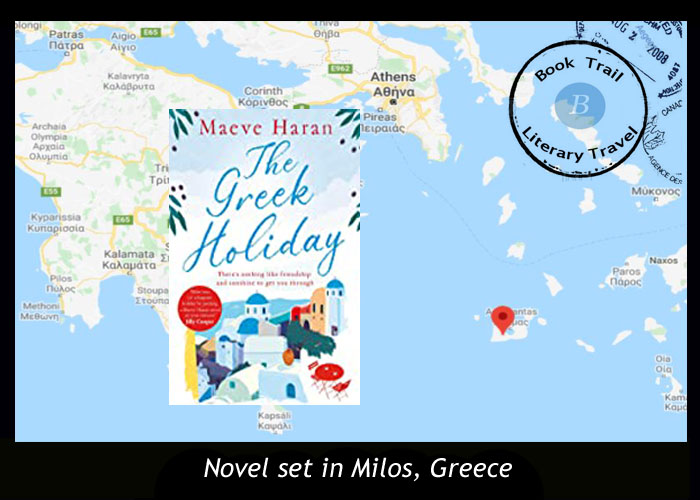 Milos was the inspiration for my island of Kyri, and it's here that my four friends find what they're looking for – peace, beauty, authenticity. They also find they can actually be useful to the community and, to their surprise, that they themselves feel healed by doing so.
The one thing Milos is best known for, of course, is possibly the most famous statue in the world – the Venus de Milo . A peasant dug it up in 1820, it was sold it to a French consul, and it's now on display in the Louvre in Paris.
So naturally I couldn't resist having my own lost statue of Venus who appears and mysteriously disappears again. The Greeks know here as Aphrodite. Naturally my four heroines turn sleuth and decide to use their talents and innate British cunning to find her.
Amazingly the tiny island was once the HQ of the famous corsairs – licensed French pirates who roamed the high seas just like Cap'n Jack Sparrow. They would attack the British and Turkish ships and hide their booty in the many caves on Milos and the tiny adjoining island Kimolos. And of course those caves come in very useful for hiding ancient Greek statues.
There is a huge joy of extensive research on location. You find out many new things which you can incorporate in your story. I had no idea about the presence of corsairs when I went to Milos and was amazed to hear that four thousand people lived there at the height of its corsair fame.
When I'm researching I take hundreds of photographs. I make a moodboard showing all the faces and places I've seen to help me recreate the atmosphere. It's a real delight on a cold winter's day in London to look at white sand beaches and aquamarine seas. I try and recapture the feeling of sun and surf on your skin as you skim round the island in piratical tourist boats. If I look through my old moodboards it's really satisfying to see the inspirations for so many of my characters and scenes.
But like most of my books The Greek Holiday is about the depth and endurability of female friendship. As one character remarks: husbands come and go but friends last forever. And they also go on holiday with you!
Thanks so much Maeve for a fascinating account of your novel!
BookTrail Boarding Pass: The Greek Holiday
Twitter:  @maeveoharan