The Greek Holiday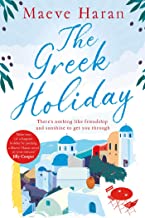 Why a Booktrail?
2000s: Four friends go on holiday to a Greek Island
What you need to know before your trail
Four old university friends, Dora, Penny, Nell and Moira, reunite to relive that first hippy-dippy trip together to a beautiful, unspoilt, romantic Greek island looking for sun, sand and sea.
But it's not just about going back to when they were young. Maybe they do have dreams like Shirley Valentine, because, ultimately, they're all looking for something to help them through some difficult times in their lives – whether it's with their career, family or relationships.
What they discover in Kyri is an opportunity to reinvent, be themselves, contribute to a community who wants their help, at the same time as having fun, being happy and even finding love. But, crucially, they discover the most valuable lesson of all – understanding the true importance of female friendship.
Travel Guide
A Tour of the Greek islands with A Greek Holiday!
Ah Maeve Haran likes a holiday! We've been to Italy with her and now it's time for  a bit of island hopping. We start off in Athens, at Piraeus port and then take the boat to Ios where they dock before heading to (fictional) Zanthos and then the island of Kyri which is also fictional. Maeve has created her very own Greek island and has totally created into her own mould!
It sounds delightful with the goats and relatives, not to mention the pirates! The sun is out, they climb up to see the scenery from the hill and there's more than one bar and the smell of  herbs and olives fill the air.
There's definitely a Greek feel to all this. Greek islands, food and drink, sunshine and nice looking tanned men. Four friends go there to reconnect with themselves and with each other and the feel of island hopping will get you wanting to do the same!
BookTrail Boarding Pass: The Greek Holiday
Destination/location: Greece, Milos, Piraeus, Ios, 'Kyri'   Author/guide: Maeve Haran  Departure Time: 2000s
Back to Results