From Venice with Love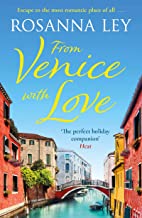 Why a Booktrail?
2000s: A trail led by letters, around Lisbon, Prague and Venice..
What you need to know before your trail
With her marriage in danger of falling apart, Joanna returns home to the beautiful but dilapidated Mulberry Farm Cottage in rural Dorset, where her sister Harriet is struggling to keep the Farm afloat and cope with their eccentric mother.
When Joanna discovers a bundle of love letters in the attic, written by a watercolourist named Emmy, she is intrigued and sets out to discover Emmy's true story. Emmy's letters take Joanna to the picturesque alleyways and bridges of Lisbon, Prague, and the most romantic place of all: Venice – where a whole new magical world seems to unfold in front of her.
Meanwhile, back at Mulberry Farm Cottage, a mysterious prowler adds to Harriet's problems and interrupts her search for a perfect partner. Will she ever find true love? Where will Emmy's mesmerising pathway lead? And more importantly, will Joanna and Harriet be able to rescue the cottage and finally be able to re-discover their sisterly bond?
Travel Guide
Travel around Venice, Lisbon and Prague  with letters and trails
This is a real journey of discovery from start to finish. Clues taking in trails and places in and around three major European Cities. Dorset and Cornwall also feature in the story but the main story line is firmly in the cities of Lisbon, Prague and Venice.
Venice
A city explored with love and affection in the novel. The title says it all really. As Jo looks for clues, she trails around the city's narrow, cobbled streets, around the bridges such as the Rialto and the famous Grand Canal. There's even time for an icecream stop (author recommended of course)
Lisbon
A city also known for its fantastic bridges.  The bridges form part of the clues and trails to the quest and there's a visit to an aqueduct which is an usual spot to visit for tourists, but then Jo is no tourist and this place has history…
Prague
Of course, you can't think of Prague without thinking of bridges. Gothic, old and ornate are the words which spring to mind. Jo is sad to realise that Wenceslas Square is more of a long rectangle.  There's excitment however when it comes to visiting the Old Town and the Powder Tower. The clues and history here are fascinating
Map and trail here slightly vague as some places give the game away!
BookTrail Boarding Pass: From Venice with Love
Destination/location: Venice, Lisbon, Prague  Author/guide: Rosanna Ley Departure Time: 2000s
Back to Results