Travel to The Walled Garden in Suffolk with Sarah Hardy
The Walled Garden set in Suffolk
Author Sarah Hardy's novel The Walled Garden is out this week and she popped over to tell TheBookTrail all about the novel's setting.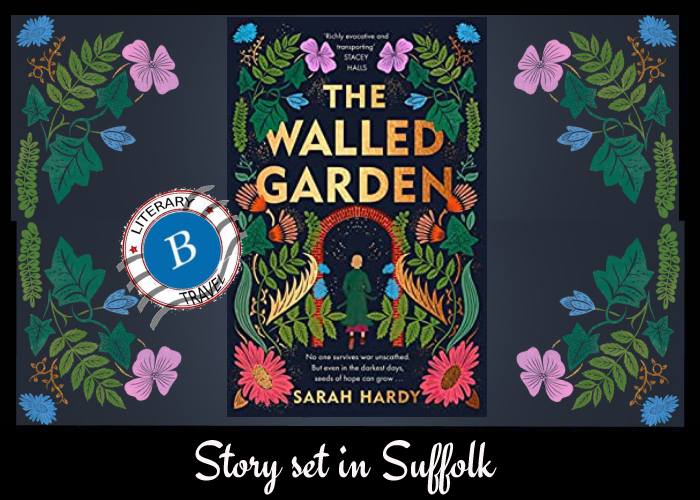 When I was seven, I knew my grandfather had been a soldier in the First World War and, shortly before he died, I asked him whether he had killed anyone.  He said nothing, then suddenly turned his back on me. What memories I triggered, I'll never know.  But I will never forget the hardness of his face.  He was unrecognisable – no longer my grandpa, but a stranger.  And I was terrified.  Even at that age I realised I had trespassed somewhere utterly forbidden and I was too scared to say another word.  I know now he fought at Gallipoli, but none of the details.  I can only imagine what he saw there. What he did.
Over the years I have been fascinated by how 'ordinary' people, like my grandfather, who are exposed to extreme trauma, go on to live 'ordinary' lives. And not just soldiers who had been in action. What marks the Second World War, in whose aftermath The Walled Garden is set, is that this war was also fought on the home front.  Everyone, not just those who went away to fight, was changed and all too often damaged.  Yet these incredibly hard times have been rather over-looked by historians – and by novelists. Victory in 1945 certainly didn't herald a magic new dawn of peace and prosperity. The suffering continued.
Where I live now, on the Suffolk coast, echoes of this are everywhere.  A short walk away is where a local family were all killed outright when a German plane, about to return across the North Sea, offloaded its bombs directly upon their home. My own home is a converted out-building of what was once the 'Big House'. This is now no more, but it was where the army was billeted.
As I walk round the local woods I come across derelict Nissen huts, abandoned pill boxes along the river wall, and I wonder how people in that post-war era recovered from what today we would call PTSD.  There would have been nowhere to turn for help. The country was on its knees, bankrupt. But somehow you had to get by, try to reconstruct your broken life, your shattered relationships.
The Walled Garden captures those difficult years.  In the village of Oakbourne, Stephen, with a dark secret he cannot bring himself to disclose, shuts himself away, to the despair of his wife Alice. Jonathan, the doctor, is angry for his lost years as a prisoner-of-war. The young vicar's faith is tested by the grief he finds around him.
The setting was very much inspired by the Suffolk landscape where I love to walk, especially in winter, or very early in the morning when often I don't meet a soul.  As a teenager, in school summer holidays, I steeped myself in the Brontes and Thomas Hardy, and that longing for wild open spaces has never left me. I set off at dawn down deserted paths, invariably heading towards the river as the austere contours of the fields reveal themselves, the moon frozen in a pale sky.
I love the sound of the wind in the reeds, the buzzards circling high in the sky. And although I've walked here for years, every time it's a new experience: the river, sometimes rough and swollen like flowing pewter, at other times a mirror reflecting the vast East Anglian skies.  But always, whatever the weather, this beautiful, bleak landscape moves, saddens and uplifts me and engages my imagination. And I wonder how people in 1946 rebuilt their lives when the peace they had all longed for seemed an illusion.
Yet this is a hopeful novel because although emotions were kept hidden, there is also inspiration to be found.  The story of these scarred characters is a story of how people who have seen the worst of human nature find a way to live again. And to love. In the resurrection of the walled garden, we see the beginnings of a resurrection of damaged souls and a damaged society.
Thank you Sarah!
Sarah Hardy is not on social media