Confessions of a Literary Traveller With Mason Cross
Travel with Mason Cross on literary location
What do writers get up to when they're let loose at book festivals or book events? They spend hours in their shed working hard and only seeing the cat for company for days on end….probably. Actually, book writing may be a solitary job but the other work involved with writing and promoting a book is something else entirely!
Mason, it's over to you….
I've always liked travelling and seeing new places, and I've been lucky that a lot of the jobs I've had have taken me out of the office to drive or take trains and planes to other places. Being an author is no exception. One of the perks of the job is getting to travel. Book festivals, visits to bookshops and libraries, on-location research, all of it requires getting out of the house and going somewhere.
Last year was a pretty buy year for travelling: the book circuit took me to Bristol for Crimefest, Yorkshire for Harrogate, London for some publisher events, St Petersburg, Florida for Bouchercon, and Stirling for Bloody Scotland.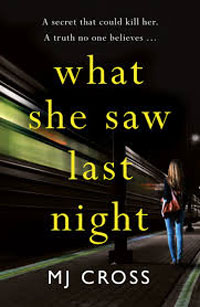 The novel I was writing last year, What She Saw Last Night, was the first one I've written that's set in the UK, so I made time for research trips to London and the Highlands.
Unrelated to writing, I travelled to a few other places: Venice, Paris and Berlin. I'd love to write a book set in one of the great European cities sometime. I love going to new places, especially cities. I always make a point of walking around and getting to know somewhere on foot or by riding the subway.
What She Saw Last Night is a book about travelling, and moving between very different places. The book opens on the Caledonian Sleeper train, with a body and a mystery. To get a feel for the train and the journey, I took a few trips on it, immersing myself in the 80s vibe of the old carriages (due to be phased out this year). I've always wanted to take a night train, and the experience of going to sleep in one place and waking up in another didn't disappoint.
Writing on the road comes pretty easily to me: I'm used to working on books in hotel rooms, on trains, on planes, in coffee shops, wherever I can sit down and work on my laptop. If there's a good library in a city I'm visiting, I always try and write some of the current book there. My favourite so far was the beautiful Rose Main reading room in the New York Public Library.
I probably work best on trains: a long, unbroken journey, a table, a nice view and patchy Wi-Fi add up to the perfect writing environment.
At one point during edits last year, I was way behind and needed some unbroken time to work on the manuscript. I also needed to travel the route the sleeper takes through the Highlands in daylight, so I decided to kill two birds with one stone. I travelled from Glasgow to Fort William and back in a day by train, editing while enjoying the breathtaking scenery and taking notes on the terrain.
I've visited some great bookshops on the road: highlights include the Mysterious Bookstore in Manhattan and Print Point in Bute. I stumbled across a great old second-hand bookshop in Inverness called Leakey's when I was cut off from my trip home by a blizzard.
I'm pretty happy on the road, but it's always good to get back home, see my family and sleep in my own bed. It's a cliché but it was nice to have a good cup of tea after coming back from the US.
Carter Blake, the hero of most of my books, would probably adjust pretty well to the life of a travelling writer. He's a traveler by nature: he goes where the case takes him, and like a writer, he's always the outsider, always interested in digging beneath the surfaces of new places and people.
Thank you Mason! And some top tips there for life on the road!
Twitter: @masoncrossbooks   Web: //masoncross.net/