Summer in Perpignan – All the Cats are Bored
Travel to Perpignan for a police procedural
A police procedural with a distinct European feel -Summertime All the Cats Are Bored is set in the Perpignan area of Southern France, right on the border with Spain. This is a very interesting setting for a novel as it mixes an interesting blend of Catalan and French culture. Add to that Dutch victims and you have an intriguing premise.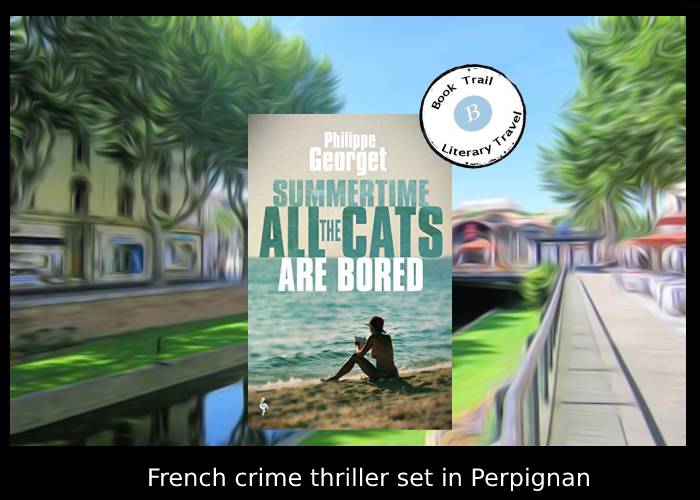 Rousillon is the main setting and oh does it sound lovely:
"At a glance he could take in the whole plain of Rousillon as far as the blue sky of the Mediterranean, To the north, the crest of the Corbieres slowly descended towards the bay of Leucate; to the south, the Alberes range hid Spain from his dazzled eyes."
This is the height of summer and the heat sears from the page. No wonder the cats are bored, they probably can't even find a cool place in the shade to settle down and hide. Policeman Gilles Sebag has a lot on his plate and one of the things he has to deal with is cross-border cigarette smuggling. Due to the geographical location of this place, there are crimes that happen here that the area lends itself well to, so to speak.
The landscape and the unique setting of this place is clearly evoked in the novel. Visit the beaches in style with sentences like this one:
"The sea breeze was slowly rising bringing with it a wild sense of iodine and faraway places."
However,  Argelès beach is a crime scene. There is a full description of a man having a wee in the sand, so maybe best to not visit that one ….
One of those immigrants from the north that the Catalans received with a mixture of fellow feeling ride and resignation. He lives close to Perpignan in the village of Saint Esteve and seems to have a very nice but lonely house.
Perpignan is where the police station is located:
"The police HQ in Perpignan was a grim building – a three-story block that looked like one of the low-cost housing towers in the working class neighbourhoods of the northern part of the city. Two sickly palm trees framed the main entrance."
This is where Gilles carries out his search for a missing taxi driver. You can see the river and thelandscape very clearly when reading. Their beauty contrasts with the ugliness of the crimes unfolding:
"The little river ran quietly in its channel through the downtown area, below street level, Its grass covered banks looked like nice places to hang out"
After all the drama in the novel, why not have a rest in the Deux Margots bar in Perpignan's old town where some of the characters hang out. Failing that, why not try one of the luscious sounding fish dishes from the Saint Charles market.
Plenty of local flavour in this novel!
Facebook:www.facebook.com/philippe.georget.3