Paris and cake with Julie Caplin
Paris and cake – what more can a girl wish for? That's exactly what Jules Wake must think as she's written a delectable novel set firmly in the city of Love…of cakes! We're off to The Little Paris Patisserie…
Nina's in patisserie heaven in Paris, but her biggest problem is deciding between the delicious pastries or tasty chef Sebastian….
Hi, welcome to The BookTrail!
What is special about the locations you feature in your book?
I love to mix real locations — those famous or familiar landmarks that have readers either saying, oooh I've been there, or I really want to go there — along with fictional settings which allow me to let my imagination take flight.  I spend a lot of time working out which landmarks to include, getting to know the particular places the characters will visit and planning the routes that they might take within the city. It's important to give readers a real flavour of the city in terms of those little details you notice when you're in a different country.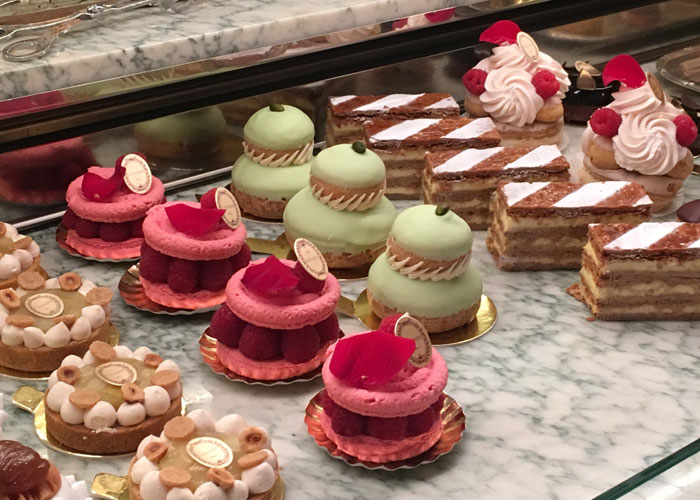 What can you tell us about it?
In this book, the story is set wholly in Paris and I chose a couple of key locations for the story.
Most of the action takes place at a fictional patisserie in the Seventh Arrondissement of the city, south of the Seine in Paris, near Les Invalides and the Eiffel Tower with its wide boulevards and pavement cafés, although I couldn't tell you exactly in which street you'd find the building.
I also created a fictional hotel which is in central Paris not far from the Place du Concorde, so that I could include some of the iconic tourist spots and capture the flavour of the city.
How did you research setting?
My starting point for this story was a fabulous book, Paris Patisseries, which a friend bought me for Christmas. It's part history, part recipe and part reference featuring all the best shops in Paris, filled with fabulous pictures of cakes and shops. It was an absolute inspiration and absolutely invaluable in giving an insight into the culture of the patisserie within the city.
Even though I've been to Paris quite a few times, I did make a specific visit for this book because once I started my research I realised that I needed to experience that unique patisserie culture.
It's also important to realise that the word patisserie refers to both the shops and the cakes sold in them, which can get a little confusing when you're talking about both all the time. So, for ease, when I refer to patisseries, I mean the buildings themselves and I'll use the term pastries even though that is a woefully inadequate description for the incredible creations you see on display.
Those cake shops….
Oh my goodness, who knew how different patisseries could be? Or what works of art pastries can be and now many different spins you can put on choux pastry?
Even before I went to Paris I spent a while researching patisseries; the popular and the historic as well as the up and coming new kids on the block. It was only when I started to visit them that I really started to appreciate the culture of patisserie From the traditional Ladurée, famous for its macaron and its beautiful historic tearooms on Rue Royale and the brash bright upstart, Fauchon on Place de la Madeleine through to the contemporary, minimalist La Patisserie des Reves on Rue du Bac.
Before I went, I also did a patisserie cookery course which gave me some insight into pastry cooking but once I got to Paris, I realised how much more there was to learn. Although there are the classic French cakes which we might be familiar with in England, such as the éclair, the mille-feuille and macaron, there are also many more choux based pastries such as religieuse, St Honoré, brest as well meringues, tarts which are all familiar to a Parisienne. The pastry chef is king here and their creativity is astonishing. You only have to see the displays in the shop windows to realise that patisserie is an art form in Paris and see that each of them has their own distinct style in the products they sell as well as the way they are presented.
Travel tips for visiting the setting in your work?
Definitely visit Pain de Sucre on Rue Rambuteau, just off the Marais. It's a lovely part of Paris to wander about in. This is a friendly, lively patisserie with a fabulous display of cakes, quite different to nearby Pierre Herme, which is far grander, but both are well worth a visit.
Check out the fabulous Marché Saxe-Breteuil, a typical French market. With its view of the Eiffel Tower, it's one of the most beautiful and best located markets in the city. It's only open on Thursday and  Saturday mornings but don't worry if you miss it head to the Bastille Sunday Market, possibly the best market in Paris. There is nothing quite like a French market.
I've mentioned both Ladurée on Rue Royale and Fauchon on Place de la Madeleine already, but these patisseries are so close to each other, you should go and visit both just to see for yourself the difference between the grand dame of patisserie and the young, punk upstart.
Paris is a compact city and like my characters, I'd recommend doing a lot of walking.  Like Nina in my book, I'd suggest a walk from Place de la Madeleine down Rue Royale to the Place du Concorde through the  Jardin des Tuileries crossing the Seine over the Pont Royale and then walking back along the river bank to the Musée D'Orsay before cutting through to Champ de Mars and the Eiffel Tower.
What do you order from a Paris patisserie?
Whatever takes your fancy! Seriously the choices can be mind boggling but the great thing is that everything is on display, so you can just take a look and pick. However I have to recommend the Blackberry Blueberry Cheese cake in Ladurée which sounds rather ordinary but oh my goodness, chef Claire Heitzler has put the amazing twist on a traditional favourite and the Plaisir Sucré, a hazelnut meringue biscuit with milk chocolate ganache and milk chocolate Chantilly, simply sublime!
Best place to sit and eat cake in Paris?
Definitely the Champs de Mars, buy yourself a fresh croissant and cup of coffee and sit on one of the green benches in the shadow of the Eiffel Tower. It's Iconic Paris at its best.
Hope you're not tens of pounds heavier after reading this! If you're feeling a bit bigger, a jog around a bookshop always helps!
Twitter:  @JulieCaplin   Web: http://www.juleswake.co.uk