Travel to the setting of The Lost Letter from Morocco with Adrienne Chinn
Off to Morocco with Adrienne Chinn
Adrienne is the author of The Lost Letter from Morocco and takes readers right to the heart of the setting she so obviously loves. Morocco is in her blood and her heart. It's a lovely reason to set a book there and she's here to take you right to her Morroco. So now is  a good time to Travel to the setting of The Lost Letter from Morocco with Adrienne Chin…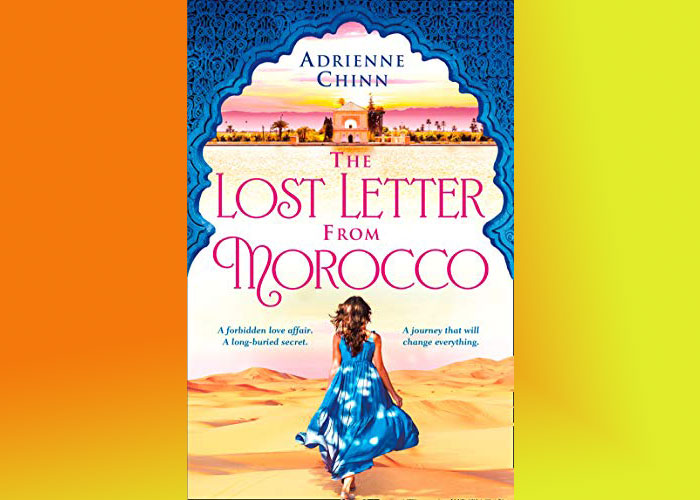 So, The Last Letter from Morocco – where is it set and can you tell us a bit about location and setting?
The Lost Letter From Morocco is set primarily in the fictional mountain village of Zitoune, in the Middle Atlas Mountains about three hours to the east of Marrakech. I was inspired by the village of Ouzoud and its breathtaking waterfalls – known as the Cascades d'Ouzoud. Zitoune/Ouzoud is a Berber (Amazigh) village of farmers and merchants, which also attracts tourists who hike around the falls and come to see the macaque monkeys in their natural habitat. There are hundreds of ancient olive trees on the hills and in the fields surrounding the village, and olive oil is the main agricultural product of the area.
Travel to the setting of The Lost Letter from Morocco with Adrienne Chinn…
Location, for me, is a character in the story. I love to paint the picture of the environment where the characters are living out their stories. It brings the novel alive for me. I love to travel and Morocco is such an inspirational place. The colours, scents, history, geography, noise and humanity of this vast country was a huge inspiration for my decision to set my debut novel in Morocco, and I wanted to bring this wonderful world to the pages of The Lost Letter From Morocco. And how do I evoke setting? By describing not only what the characters see around them, but what they smell and hear. I want the location to be all-encompasing.
On your travels to Morocco….
I've been travelling regularly – about four times a year — to Morocco since 2007, when I first visited on a short trip with a friend. I met my partner, Hamid, on that first trip and have since travelled all around Morocco with him. I have a great many friends in Morocco now from all nationalities. It's become a second home. So, the research for the novel came from the many trips I'd made, the places I've visited (yes, there are preserved dinosaur footprints in a remote area in the mountains; yes, I've been in a rural hammam in the mountains; yes, I've trekked into the Sahara on a dromedary. These experiences have all found their way into the novel.
Where do you live and how does that affect how you write?

I live in a nice flat on the first floor of a 1930s house in Sussex, with a large garden (I love gardening) overlooking the local park. It's a few streets away from my sister's house, so it's lovely to have family nearby. I write either in my study (as I'm doing now), or on my bed. I can always hear birdsong which I love. I can't write with music on or with other people around. I'm a great procrastinator, so I have to be sure to get at the writing as quickly as possible before getting stuck in doing something else. Once I start writing, I'm fine.
Writing on location…
I also do a lot of writing in Marrakech – I often either stay at a friend's flat when she's away, or stay in an Air BnB flat with access to a swimming pool. When I'm there I get up early, have breakfast in a local café, then write all morning, have some lunch on the balcony, then swim and read in the afternoon and see friends in the evening. When I'm in Sussex, I teach three days a week at an interior design college, and write the other four days for about five hours each day. I also teach interior design several times a year in China and lead a design retreat in Marrakech each autumn. I'm currently writing my second novel which will be published in the spring of 2020.
Setting your books far and wide..
I love setting my books in foreign places! I'm a typical Sagittarian who lives for travel. My next book is set in WW2 Norwich and contemporary Newfoundland (where I was born), and I have ideas for future novels in Grenada (where I have visited quite often to visit friends) and China, where I'm now teaching regularly. I love delving into the local communities and customs and bringing these to life on the page.
How else do you get the sense of a place in your work? (the culture, language, habits etc)

I like to spend a great deal of time living wherever I set my novels. I have a good ear for dialogue and accents, and I enjoy submersing myself in local communities to really get a feel for how people live and interact. I like to live in a flat rather than a hotel, take part in local activities, eat whatever's going down, just be part of the local community. I don't take notes. I just immerse myself and live, being friendly, meeting people, and I take a lot of photos. I'm a keen photographer. I'm heading back to Newfoundland this summer for six weeks to spend time with friends and relatives there, travel around, attune my ear, and finish my second novel. I'll turn myself back into a proper Newfoundlander again!
Travelling to literary locations… 
The Bronte Parsonage Museum in Haworth – now, that was an evocative place! So Gothic and wind-swept! To Tangier, of course, to experience the place so beloved of Paul Bowles, one of my favourite writers. To Monk's House, in Rodmell, East Sussex where Virginia Woolf had her wonderful writing shed. I enjoy seeing where writers write.
Thank you so much Adrienne. What a lovely story of how you wrote the book and what Morocco means to you!
Twitter: @adriennechinn   Web: adriennechinn.net/