Travel to the theatre of The Moon and Stars
The theatrical setting of The Moon and Stars
Today Jenna Warren, author of the wonderfully magical novel The Moon and Stars comes to chat all things location and theatres…..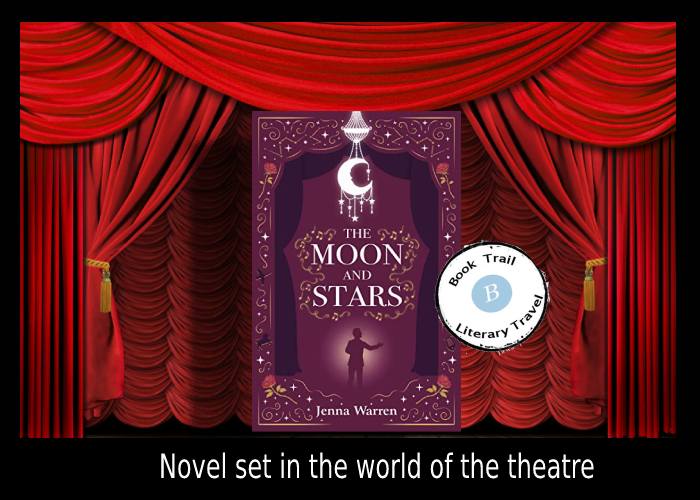 A large part of my inspiration for The Moon and Stars was my great love of theatres as buildings. Matthew, my main character, works as a manager at the Moon and Stars Theatre, a fictional building in the East End of London.
Although the building itself and everything that occurs within its walls is imaginary, from an architectural point of view it's inspired by theatres and music halls of the Victorian era. Like many old theatres, it has gone through periods of closure and neglect. The paint is peeling from the walls and the frescoes in the auditorium are starting to fade. But Matthew and his team love it and are determined to keep it open.
To create my fictional theatre, I looked at photographs of theatres that have been sympathetically restored and conserved. Wilton's Music Hall in Tower Hamlets and the Alexandra Palace Theatre provided good examples of this. Both look beautiful, like theatres frozen in time, and they gave me some helpful visual references.
As well as the Moon and Stars, the novel features several other theatres. Matthew is a singer, and he tours around the UK with Angela, a classical crossover star. These theatres are all inspired by real buildings to a greater or lesser extent. I've changed names and borrowed architectural features to suit the story and give free reign to my own imagination.
I'm a regular theatre goer, so much of the novel draws on my own experiences of visiting theatres. I've tried to capture something of their individual characters and atmospheres.
This theatre was the primary inspiration for my fictional Grand Theatre, where Angela and Matthew rehearse and launch their album. My novel is loosely inspired by The Phantom of the Opera, and Her Majesty's is home to the long running musical version, so I thought it only right that it should make an appearance!
The building we see today opened in 1897 (after being rebuilt several times), and its name changes depending on the gender of the British monarch, so it will become His Majesty's in the near future. I particularly love the cast iron and glass canopy over the entrance, complete with flickering torches. The theatre is very atmospheric, and I love visiting it.
Matthew and Angela originally meet as music students in London, and often perform together. In their third year, they audition for a TV talent contest called Dynamic Duets. The auditions take place in a large West End theatre, designed in the Art Deco style. The Apollo Victoria is a stunning example of this, and while I have not visited it for many years, it still provided a good visual reference while I was working on the novel. Originally built as a cinema and opening in 1930, it is currently home to Wicked, another long running musical. I love the fantastical design of the auditorium, which was inspired by the sea and features nautical motifs.
This is the first stop on Matthew's slightly strange concert tour around the UK. It's a large Victorian theatre, built in 1891, and seating nearly 2000 people. It often hosts musicals, and I've visited it twice to see a touring production of The Phantom of the Opera.
Another stop on Matthew and Angela's tour. Matthew is from the Newcastle area, and he's very fond of this theatre, as am I. I've visited this wonderful theatre many times, to see plays and musicals. I even had a peek backstage when I took part in a theatre festival while at college. It has an imposing façade with neoclassical columns, and the auditorium (designed by famous theatre architect Frank Matcham) is magnificently opulent. Visually, it's everything I love about Victorian/Edwardian theatres. It's beautiful.
And finally, two bonus, non-theatrical locations:
Piccadilly – The location of the fictional Masquerade! Club where Angela invites Matthew to a party. Matthew feels at home in his old theatres, so I wanted to create a venue which would contrast with these and make him feel out of place. The studio where he records the album with Angela is in the same area.
Trafalgar Square, on the steps of the National Gallery: This is where Matthew's friend Ralph, a singer-songwriter, comes to busk. I loved writing about the sights and sounds of Trafalgar Square and the different street performers.
What a wonderfully theatrical tour of London and The Moon and Stars
Twitter: @BookCornerShop   Web: /bookcornershop.co.uk/