On the Chemical Code Trail in Amazonia with Fiona Erskine
The Chemical Train Trail with Fiona Erskine
If you like fast and furious adventure in your books then Fiona Erksine is the writer for you. An engineer herself she has written a kick-ass heroine who works in the male dominated industry of chemical engineering.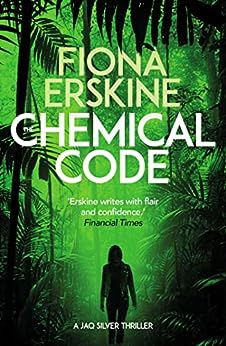 In The Chemical Code, Book 4 in the Dr Jaqueline Silver thriller series, Jaq is hellbent on revenge. The structure of the book follows her journey from sugar cane country in Sao Paulo state to an illegal gold mine in Amazonia, in the state of Tocantins.
The book opens with Jaq fighting off a vicious attack as she leaves an ethanol factory.
I am not as strong as any of these three men. I don't stand a chance in a fair fight, but I understand the principles of physics. Energy is force times distance. My legs are the longest levers I have. Power is the rate of energy transfer. I can't rely on a single kick; I need to deliver frequent blows. Momentum is mass times velocity. I am lighter, so I have to move faster.
They are fighting for gold. I'm fighting for something much more precious. I didn't come to Brazil because of a gold mine. I came to this country to find my son.
The men are moving again. I can't wait here to be rescued. I need to defend myself, and I know exactly where to find the most effective weapons.
I run towards the factory.
Jaq uses her understanding of the sugar to ethanol process and all her scientific skills to fight off the 3 assailants. She escapes on a freight train. Follow her rail journey on this magnificent map:
The Malha Paulista freight railway carries almost 3 million tonnes of sugar each year. It connects to the FRS which carries 5 million tonnes of soy and 4 million tonnes of corn. Both connect with the MRA, which carries 121 billion tonnes of iron ore every year. By connecting with the Ferrovia Norte-Sul railway Jaq travels by freight train from the port of Santos on the South Atlantic coast to Palmas in the geographical centre of Brazil.
As she train-surfs from the wealthy populated coast towards the dark heart of the Amazon, a series of flashbacks tell her story.
BT – That is quite the journey is it not? Any train journey is good but this is extra exciting.
Twitter: @erskine_fiona