Hello, Again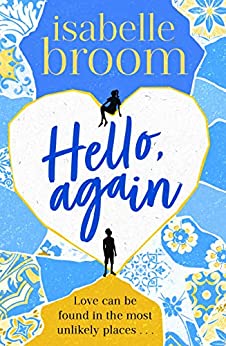 Why a Booktrail?
2000s: You can find love in the strangest of places!
What you need to know before your trail
Philippa Taylor (Pepper to her friends) has big dreams. When she closes her eyes, she can picture exactly who she ought to be. The problem is, it's about as far away from her real life in a small coastal town in Suffolk as she can imagine.
So when her elderly friend Josephine persuades Pepper to accompany her on a trip to Europe, she jumps at the chance to change her routine. And when Pepper bumps (literally) into the handsome Finn in Lisbon, it seems as though she might have finally found what she's been looking for.
But Pepper know all too well things are rarely as they seem. Her own quiet life hides a dark secret from the past. And even though she and Finn may have been destined to find each other, Pepper suspects life may have other plans as to how the story should end.
Travel Guide
A European city tour to Lisbon, Hamburg and Barcelona
Oh you are so going to want to go on THIS tour of Europe!
Lisbon
"A bridge had been erected that connected Lisbon to Almada and there were photos, so I knew it was beautiful. I wanted to get a suntan and see all the azulejos – those are painted tiles of course."
"Lisbon's famed terracotta rooftops glowed like embers against a periwinkle sky, the Rio Tejo sparkled sapphire blue below them, and tramlines slithered like silvery eels across the roads and up around corners."
Hamburg
"The atmosphere in Hamburg was different to that of Lisbon – which Pepper had adored for its artistic and romantic soul – but it was no less easy to love. She was enthralled by the metal palm tree structures casting irregular shadows in Park fiction."
"Much of Hamburg's nightlife was concentrated in and around the Reeperbahn – the so-called longest party street in Europe."
Barcelona
"They drove through the wonderfully chaotic Spanish city. Barcelona was a place that overflowed with life. From the bonnet-to-bumper stream of traffic on the roads to the endlessly bobbing sea of tourists spilling along the pavements…"
"Barcelona was a carnival in comparison, and every surface, statue and upturned face was basking in brilliant sunshine."
Booktrailer Review
Such a wonderful read – an emotional journey told on a tour of three amazing European cities. A must read for all booktrailers everywhere!
BookTrail Boarding Pass: Hello, Again
Destination/location: Lisbon, Hamburg, Barcelona Author/guide: Isabelle Broom Departure Time: 2000s
Back to Results