True life tale of an Elephant Safari in South Africa
Sometimes two authors come along who you invite for a chat about their latest book, only for the chat to take you to places you never expected to go. And the book they're talking about is a real life tale involving human drama, resilience and plenty of elephants. You are in for a treat!
Françoise, tell me what a 63-year-old Frenchwoman is doing in the middle of nowhere in South Africa looking after a herd of elephants?
I've lived here for more than thirty years and I sometimes still shake my head about that. I grew up a city girl who knew nothing at all about animals but deep inside I always knew I would end up in a foreign country. Although I never imagined myself living out in the sticks in Africa.
My friends thought I was mad when I left Paris but I was smitten by Lawrence and his country and trusted my instincts.  In the beginning, it was easy because we lived in Durban, a coastal city on the Indian Ocean, with sprawling beaches, a Californian lifestyle, mild winters and plenty of buzz to keep the city girl side of me happy.
The real culture shock came ten years later when we bought Thula Thula, a small game reserve in the Zululand hills about two hours north of Durban. My first experience of wildlife was a mouse dropping into a pot on the stove – followed immediately by the snake that wanted it for dinner!
 You also live in the middle of nowhere – don't you, Katja?
I guess a tiny hamlet of three hundred people in the Pyrenees is pretty much the French equivalent of living in the sticks. It's a good place for a writer to be creative.
Françoise, did you and Lawrence always plan to have elephants?
Not in our wildest dreams. When we bought Thula Thula, wild elephants hadn't lived in the area for over a century but within a year of owning it, we received a call about a small herd of rogue elephants that would be shot if we didn't take them.
We didn't know the first thing about elephants and we'd heard that several reserves – with more experience and sanity than us – had already refused. But the herd was days from being shot and Lawrence and I weren't going to let that happen.
How did the herd react to their new home?
They hated it. The foreign terrain and smells were too much for their matriarch Nana and she broke through two 8,000 volt fences in a desperate attempt to lead her family back to where they had come from.
Seven elephants on the run in an area dotted with rural villages was a code-red disaster and the authorities were ready to give the shoot-on-sight order, but Lawrence and his team managed to get them back and over time, he developed a powerful and spiritual relationship with Nana and the herd, and they never broke out again.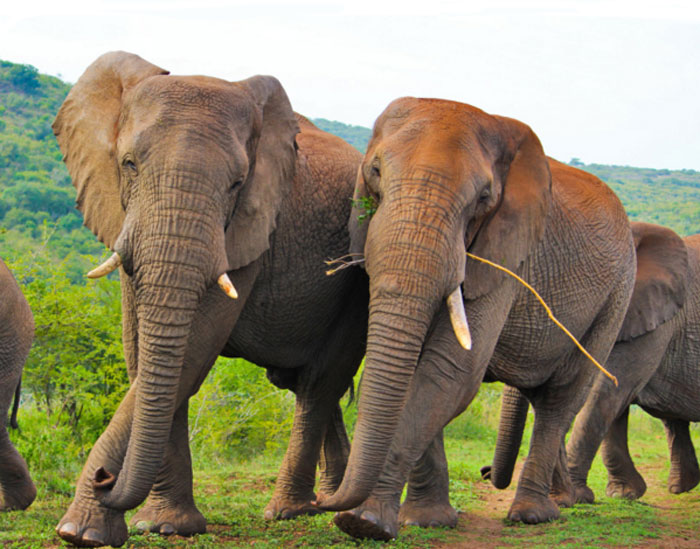 When Lawrence died of a heart attack in 2012, weren't you tempted to go back to France?
A lot of people thought I would but my two-legged and four-legged families at Thula Thula needed me and I wasn't going to let them down by running away.
They were tough years. Lawrence had always handled the animal side of things and it was a terrifying responsibility for me to take over. With the help of my wonderful team we survived but for a long time, I continued to receive messages from around the world asking how the herd was.
So much so that I began to think about telling my story and talking about what happened at Thula Thula in the years after Lawrence died.
But writing a book myself was easier said than done. Everyone teases me that my French accent gets worse every year so I needed to find a writer who could take up the challenge to write a sequel worthy of my late husband's book The Elephant Whisperer. It was Thula Thula's resident photographer, Kim Mcleod, who introduced me to Katja.
Katja, what was it like writing Françoise's story?
Françoise threw open the door to her life, her thoughts, her entourage. No question was taboo. I had total freedom and because English isn't her first language, she left the wordcraft to me. Heaven for a writer!
I grew up in South Africa and fell in love with the bush and elephants on a friend's game farm near Kruger National Park so writing about both was a dream come true.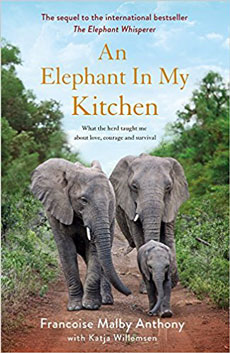 What is An Elephant in my Kitchen about?
Françoise: It's about survival, hope, courage and never losing sight of the fact that I had to make sure Thula Thula survived so that my human and animal families would always have a home.
Katja: It's the story of a feisty brave woman who despite poachers' attacks, financial problems, being a foreign female in a macho environment, never gives up.
What a perfect point to finish talking about this story of hope – "never give up"
Thank you so much Françoise and Katja for a fascinating insight in to a remarkable story in so many ways!
Thula Thula was also the home of late bestselling author and conservationist: Lawrence Anthony, who passed away on the 2nd of March 2012.  His second book, The Elephant Whisperer relates the story of the rescue of the Thula Thula elephants, and the special relationship he has created with the herd.
Thula Thula is run by his wife, Francoise Malby Anthony, who carries on the legacy of Lawrence with his conservation projects and running of the two lodges.