#LiteraryLocations – A mystery is solved – Kat French
TheBookTrail is all about Literary Locations of course but some are easier to find than others. Some are real, some are real with fictional streets, others are purely fictional but then there are some which sound so real and feel so real, some you think you've heard of before….
Some you are convinced exist so you look at more than one map…..
Then end up making up your own as it's described so convincingly by the author you think it should actually exist….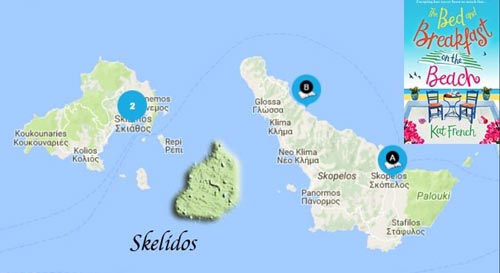 The Bed & Breakfast on the Beach is set on the fictional Greek island of Skelidos. I originally planned to set the story on Skiathos, but none of the locations on the island were exactly perfect.  I considered its sister island, Skopelos, the film location for Mama Mia, but in the end creating my perfect island was just too appealing!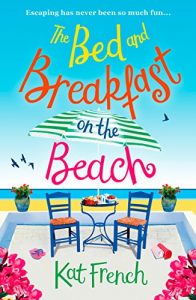 Settings are so important in books, aren't they?
I've tried really hard to paint a vivid picture of both the island itself and the shabby pink mansion block of a B&B at the centre of the story.
Geographically, I've placed Skelidos between Skiathos and Skopelos; it's tiny and lush, all green olive trees, white fringed sands, and turquoise seas. It's great fun creating a brand new island – to be honest it feels like a real place to me now!
A blogger made me smile a few days ago, she tweeted me that she'd had her atlas out to try and find the island. That's as good as it gets for me! (Probably me Kat 😉
I don't have any pictures of the location for obvious reasons, but this was my screensaver as I wrote the book.
With many thanks to you Kat for solving the mystery of Skelidos – you can't imagine how many enquiries we've had at The BookTrail! Haha loved this mystery. Let's all now head to Greece just to check it really is fictional though…I mean it's good to really properly research it isn't it. It's good to be thorough…
Author/Guide: Kat French   Web: kittyfrench.com/kat-french-books