The Bed and Breakfast on the Beach
Why a Booktrail?
2000s: Grab your G&T, your best friends and head to Greece!
What you need to know before your trail
Winnie, Stella and Frankie have been best friends for as long as they can remember. Things aren't going too well at the moment though  – men problems mostly. But when life gives you lemons you make lemonade right? Well, where better to drink that lemonade than on a sunny Greek island?
So that's where they end up buying a Greek B&B on an nice remote island where the sun shines and you can smell the olives and there's a nice bit of shade to sit in and…no wait..its the shadow of an annoying neighbour…handsome though…
Will Villa Valentina bring love along with its rock star guests and large supply of gin?
Travel Guide
Greece and the Greek islands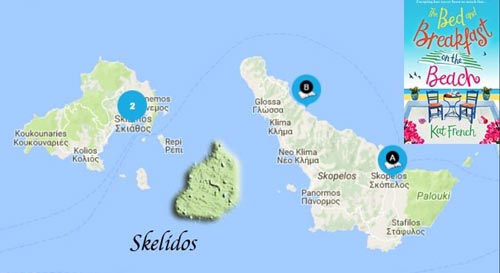 Nestled just between the islands of Skopelos and Skiathos is Skelidos, a fictional Greek island. Villa Valentina is the B&B which is a crumbling, pink-washed Greek haven set near the beach, with Gins a plenty..
Fictional but doesn't it sound real? And after you've read this book you will feel as if it IS real. That sun, those lemons, the scent of olives and a donkey named The Fonz….
There are some characters on this island..and the humour is as fresh as the zing of a pina colada. Reasons for going to this island?
"- Well, I need a job, a man and a ticket back to normality asap.
"- Will a business, a donkey and a ticket back to an island you can't remember the name of do in the meantime?"
Howls and cries of laughter aplenty as the women try to adjust to life on the island and interpret the Greek way of doing things. Whilst fending off the comments of an irate Australian.
Booktrail Boarding Pass: The Bed and Breakfast on the Beach
Author/Guide: Kat French  Destination: Skiathos, Skopolos "Skelidos"  Departure Time: 2000s
Back to Results