Where Michael Stanley takes me to jail
Until today I could honestly say that I had never been in prison. Michael Stanley, authors of A Deadly Harvest have some funny ideas about what a captive audience really means. Would Detective Kubu be able to save me?
Your Booktrail ticket to Botswana and a meeting with Detective Kubu Awaits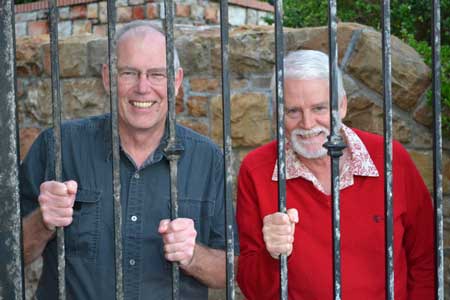 Well,I had visited Alcatraz and stood inside one of the cells with the door shut. Brr that was chilling. But today, as soon as I shook hands with the authors of Deadly Harvest, they led me straight inside a prison, clanged the door shut and then sat down in front of me.  I'd heard of a captive audience before but I didn't know what this meant! Luckily for me, they enjoy a bit of scene setting, they joked that ' the prison food is good here' and that this was their little joke to immerse me into the essence of the novel. Isn't that what the booktrail does? they laughed. Well, at least there wasn't a witch doctor in the room, and the only black magic in here was a box of chocolates. Oh these authors are cheeky!
For readers new to your work…
'Michael Stanley' is actually two people – Michael Sears and Stanley Trollip – who write together.  We've been friends for more years than we care to mention, but we really got to know each other in the eighties in Minneapolis where Stanley was a professor studying the use of computers in education, and where Michael was often on sabbatical from his university in Johannesburg.
Stanley is a pilot and, on trips back to South Africa, would rent a plane and fly into wilderness areas of Southern Africa with a group of friends.  On one of those trips to the Savuti game reserve we had the idea for a novel and many years later we actually wrote it together.  Rather to our surprise it was published in 2007 by Harper Collins as A Carrion Death.
Nowadays Stanley splits his time between Cape Town and Minneapolis; Michael still lives in Johannesburg.  Deadly Harvest is the fourth novel in our Detective Kubu series set in Botswana.

Detective Kubu is quite a character. How did you come up with him and is he based on anyone in particular?
Actually, he's an 'accidental' protagonist.  Since we were told to 'write what you know' and we were both academics, we had scoped out an ecologist at the University of Botswana as the lead character. He is savvy and has the eye of a detective.  But once a dead body turns up, you need to call the police.  So Detective David Bengu clambered into his land rover with a good supply of food and drink and opera tapes to sing along to and headed out to the scene.  By the time he got there, he'd taken over.  The ecologist had a role to play, but eventually we married him off to Kubu's sister-in-law as a consolation prize!  Kubu is David's nickname – it means hippo in Setswana, the local language – and that sums up his shape and approach to life, including a tenacious focus on his target.  Don't get between a hippo and the water!
Kubu is not based on any one person, although he has features of both of us – loves wine, food, music.  Entertainment Weekly called him the 'African Columbo', but we certainly didn't have Peter Falk in mind at the time.  Anyway, Kubu is much larger!
Your setting of Botswana is wonderfully evoked. How did you decide to set your novels here in particular?
It goes back to that first idea we had in the Savuti.  One evening we watched a pack of hyenas attack, kill, and completely consume a whole Wildebeest, flesh and bones.  That gave us the idea for the perfect murder.  Throw out the corpse and let the hyenas dispose of it.  But that's hard to do in South Africa where most dangerous wildlife is in controlled areas.  So Botswana, since we know it so well, seemed the obvious choice.
Now we're glad about that decision for a deeper reason.  It allows us to build our mysteries around issues of importance in Southern Africa that aren't related to the legacy of apartheid in South Africa.  Our themes are blood diamonds, the fallout from the Rhodesia/Zimbabwe civil war, the plight of the Bushman peoples of the Kalahari, muti murders, the Chinese in Africa.
You have woven so many threads into this novel with the background of culture, language, landscape, animals, corruption and black magic. What kind of research did you do?
Well, we've spent a lot of time in Botswana.  Michael was involved with the Debswana diamond mines (De Beers' Botswana partner) while he worked at a big mining house in South Africa.  Once we'd made the decision to set the book there, we started visiting with other objectives – meeting the head of the CID, the future commissioner of police, and many other interesting people from all walks of life.  We also travel to all the areas we write about, spending time there and getting to know the environment.  We write notes about them, but usually only a snippet, if that, makes it to the final draft.  Nevertheless, we feel that having been there really helps the realism of our novels.  Sometimes it even affects the plot.  In our third book, Death of the Mantis, it's important that there is exactly one petrol station in a certain small town.
Your background is in academia and business. Why did you want to write these novels about a policeman in Botswana?
It was a new challenge for us!  Stanley had retired and Michael was approaching the end of his career with the mining company.  We had the time to try it.  Michael wrote the first draft of the first chapter and sent it to Stanley, who liked it but wanted to know what happened next.  Michael had no idea, so Stanley settled down to find out.  It's tremendous fun working together, and once it was underway, it never occurred to us not to do it.
This is your fourth novel. Can we read them in any order or should we start with one in particular?
They can be read in any order.  The stories all stand alone, and we're careful not to expect the readers to know Kubu or his family and colleagues from previous books.  There's the development of the characters and so on that makes it attractive to read them in order – Kubu has matured over the books.  Some people insist on starting any series at the beginning, others enjoy dipping in to it as you have.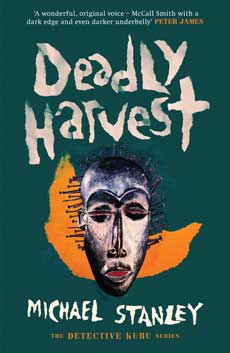 The novel is richly atmospheric and dark. Tales of black magic and Muti. Can you tell us a bit more about this and do you think other countries misinterpret/misunderstand this?
Muti is a magic potion.  The principle behind it is that if it contains part of a human or animal with specific perceived properties, then these properties can be transferred to whoever takes the muti.  A lion's heart for courage, sex organs from a youth for virility, bits of an old man for wisdom, albino body parts for power.  Since courage, virility, wisdom, and confidence are often more in the mind than the body, a believer may well see a remarkable improvement in what he or she wants.
We think there are several misconceptions.  First, some readers think we invented the whole thing.  Unfortunately that's not the case.  If anything, murders for human body parts to use in black magic potions are on the increase.  Second, Westerners imagine that it's unsophisticated people who use these concoctions, but in fact muti is very expensive so it's wealthy people with powerful positions or good businesses who use them.  That alone makes it a no-win situation for the police to investigate.  Finally, while most people you ask would say they don't believe in the power of witch doctors, most would avoid crossing one.  It could be summed up as 'I don't believe it, but it may be true.'
Of course, Westerners have many of their own beliefs that defy rational explanation.  It's just easier to pooh-pooh such behaviours when practiced by others.
The Southern African culture and way of life is very unique. What advice or special insight would you give to a first time visitor?
Just come, relax, and have a good time!  You will find people friendly and helpful, and you will return home with never-to-be-forgotten memories of gorgeous scenery and wonderful experiences in the wildlife areas.  And you will be blown away by how inexpensive it is.
One thing to keep in mind is that distances are large and roads in the wilderness areas not always in very good shape.  As a first time visitor you may want to choose a good safari operator to save you time and possible disappointment.

What are you planning to write next for Detective Kubu?
There are two more Kubu books in the pipeline.  The fifth one, A Death in the Family, will be launched by Orenda Books at Theakston's Old Peculiar Crime Writing Festival in Harrogate in July.  The backstory is the pervasive developing influence of the Chinese in southern Africa.  It is also a very difficult time for Kubu personally.  The sixth, Dying to Live, will be out next year.  In it, a Bushman is found dead, apparently after a struggle.  Although all the superficial indications are that he's very old – older than the normal lifespan, his organs seem young and healthy by comparison.  That sparks a search for whatever is behind his prolonged life and who was responsible for his death.
Which African food and drink would you recommend?
Well, if you visited Stanley, he'd cook you a bobotie – a traditional Malay dish from the Cape which is a delicious spicy mince dish  Of course it would be washed down with a South African wine – maybe a rich Pinotage if you want a red, or a fruity Chenin to balance the spices.  Kubu's favourite non-alcoholic drink on a warm afternoon is a Steelworks – Cola tonic, lime juice, and ginger beer with a dash of bitters.  In fact, all Kubu's favourite dishes and drinks are available in a short cookbook, A Taste of Africa.  It's available at Amazon in paper and e-book forms.  However, with one disastrous exception, Kubu doesn't cook, but his wife, Joy, more than makes up for this shortcoming.
With many many thanks to you both! And even though this is just a literary prison, I am still slightly nervous, but the cake definitely helped as did the bobotie. Thanks guys!
Booktrail Boarding Pass Information:
Twitter: @detectivekubu
Facebook: /Michael-Stanley
Web: detectivekubu.com