Chewing the food of adventurers with Ed O'Loughlin
Today I'm sitting with Ed OLoughlin with a globe in one hand and his book Minds of Winter in the other. This man has written a story of adventure, travelling the map and searching inside the North West passage. Well when I got the chance to read, review and talk about maps, I was there like a shot. I've even brought some marshmallow snowballs with me for our chat. And some Polar Mints for afters. In keeping with the book's themes of course!  BOOKTRAIL MINDS OF WINTER HERE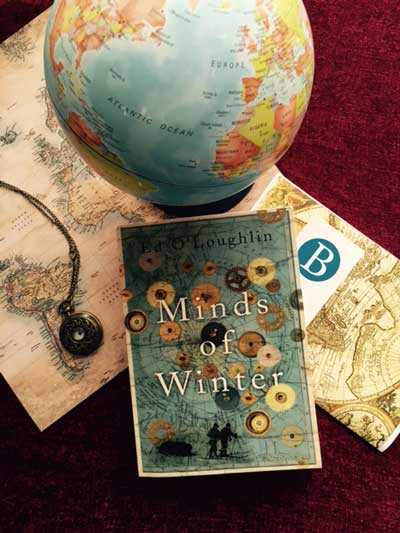 But wait what has the hunter gatherer himself brought to the table?
He flings a dead animal on the table in front of me – what on earth? But then he sees my face and tells me it's Roast caribou or could it be reindeer? he asks. I tell him he should know if it's now lying dead in front of him but then he laughs and says actually it's basically the same animal! Must be some adventurer's joke. Then he suggests something else in the basket I see he's brought with him…can't wait to see what's inside THAT!
Seal meat fritters,  pemmican stew and fermenting Greenland Shark. Then a weevily ship's biscuit. Some sauerkraut or lemon juice to help ward off the scurvy. (Excuse me!?) To kill the taste (now you're talking) we could break into some of Shackleton's secret stash of Mackinlay's highland whisky, recently retrieved from under his hut on Ross Island, Antarctica. ( I don't drink the hard stuff but I think this "feast" you Ed, I'll make an exception…

How did you come across this amazing story and what compelled you to write about it?
The central spine of my story is built around the real-life mystery of Arnold 294, an official Royal Navy chronometer that had been issued to a ship that disappeared in the North West Passage in the 1840s. I happened to open the Guardian one day in 2009 and saw a piece about how the Royal Observatory in Greenwich, which issued and maintained these high-precision navigational clocks, had recently rediscovered this lost chronometer on sale at an auction in Britain, despite the fact that the ship and all its men had never come back.
At that time I was already researching a novel of which I knew only that it would be an elusive mystery story set at both ends of the earth during the heroic age of polar exploration. The riddle of the chronometer became a seed around which the story would crystallize.
I  believe that my fascination with the polar regions comes from my early childhood, when I lived in Edmonton, Alberta. I was struck by the snow and the spruce trees, and I missed them dearly after we moved away – first to rainy grey Manchester, and then to grey rainy rural Ireland. I have always idealized the notion of a true winter, where the snow never melts. Few things haunt us like the places we half-knew and half-remember from our early childhoods.

How did you research what it would have been like to be there on the expedition? How did you transport yourself to the time and place?
This story ranges over a period from the 1840s to the present day. It has a dozen historical  and fictional protagonists – Irish, French, Inuit, English, Canadian, Norwegian – whom we meet in such period settings as Van Diemen's Land, the North West Passage, Derry City,  Ross Island in Antarctica, Victoria in British Columbia, South Africa, Siberia, Oslo, New York, London and Paris, to name only some. This required a tremendous amount of reading and also some travel – as much travel as I could afford, which wasn't a lot. From first inception to publication the book took ten years to write – I was already deep into researching it before my first novel was published in 2009.
Maps fascinate me and the sense of exploration does too. Which country or place would you like to explore and why?
The fascination of maps, and the role they play in determining how we perceive and misperceive our world, is at the very heart of this book. For several years I've had beautiful large-scale maps of Antarctica and the Arctic Basin pinned over my desk, and now that the book is finished I must think about taking them down. I would still love to visit Ross Island in Antarctica, and to see more of the Yukon and Alaska, or the high Arctic islands, which I've never visited. But I have no desire to go to either the north or south poles. Part of me wants to believe that the map there is still blank and mysterious, that the world might yet go on forever.

Have you really seen something like the chronometer in a museum or the Greenwich observatory and wondered at the story behind it?
I've made three trips to the Royal Museum at Greenwich while researching this novel – I would highly recommend it to anyone who hasn't been there. The last time I visited, as the novel was almost complete, I had arranged to meet Mr Rory McEvoy, curator of the horological workshop, which maintains and catalogues the collection of precision timepieces that once made the Greenwich Observatory and the Royal Navy world leaders in astronomy and navigation. He showed me Arnold 294 itself, which is currently on display in the clock room, and told me what he knew about the clock's mysterious provenance. I won't go into details, but this forced me to rush through a last-minute rewrite of my central plot, adding another twist. I think the book is the better for it.
Would you like to go on such an exploration in a huge ship? Do you sail yourself?
Exploration, in the traditional sense, came to an end in the early twentieth century, sad to say. I would have liked to have lived in a world where the map still offered us mysteries. But as a admirer of Joseph Conrad's novels I would love to take passage on a proper merchant voyage, from one place to another, out of sight of land. Such journeys are difficult to arrange, but not impossible. I'm not much of a sailor, although thanks to all my research I know a ship from a schooner and a main mast from a mizen.
The novel is a mix of fact and fiction. Which fact did you discover during your research which really surprised you?
Minds of Winter is a mash-up of interlinked real-life mysteries, both in its overarching structure and in its detail. The story if full of extra-textual rabbit holes: if you see something on the page that you don't recognise or understand, pause and look it up. I promise that you'll learn something extraordinary. Whilst writing it I spent years chasing down angles and enigmas. There are too many to chose from. I would say that the history of the Mad Trapper of Rat River (look it up) still bedazzles me. I am both intrigued and moved by the story of little Louise Coppin, the dead four year-old girl from Derry City whose account of the doom of the Franklin Expedition, related by her nine year-old sister, proved eerily accurate. Less fantastically, I was amazed to learn the secret history of the Weather War, in which sledge-borne Inuit and Danish settlers hunted down clandestine Nazi  meteorological stations in World War Two Greenland.
Thank you so much Ed for the chat! I would say the food but…well…maybe it's an acquired taste ahem 😉  BOOKTRAIL MINDS OF WINTER HERE
Booktrail Boarding Pass Information: Ed O'Loughlin
Twittter:  @top_loader  Web: edoloughlin.com