Bloody Scotland turns 10!
Bloody Scotland's Tenth Anniversary
Ten years on from the first Bloody Scotland International Crime Writing Festival the festival is longer, at 4 days, the number of events has doubled and the authors are more diverse than ever before.
SO WHAT ARE THE HIGHLIGHTS?
The dramatic torchlit procession through Stirling historic old town
Scotland tackle England in our crime writers' football match
Crime at the Coo cabaret featuring an array of crime writers showing off their musical talents
The Quiz – this year Vaseem Khan and Abir Mukherjee are holding their 'Red Hot Night of a Million Games' . A mishmash of popular TV shows with the Khan/Mukherjee twist.
GUESTS AND EVENTS in 2022
Guests include Sir Ian Rankin, Anthony Horowitz, Lisa Unger, Jeffrey Archer, Ann Cleeves and Frankie Boyle
'Bloody Scotland Debut Prize Panel'
'Alex Gray's New Crimes Panel'
'In the Spotlight panel showcasing 20 new authors
CAN'T MAKE IT IN PERSON?
If  you can't make it to Stirling this years, you can buy digital passes for individual events or the whole weekend.
More information about which events will be available to watch on-line can be found at bloodyscotland.com/digital-pass
WHERE IS IT ALL HAPPENING?
Stirling from 15 – 18 September
The festival takes place in various venues including:
The Albert Halls, The Tollbooth and  The Golden Lion Hotel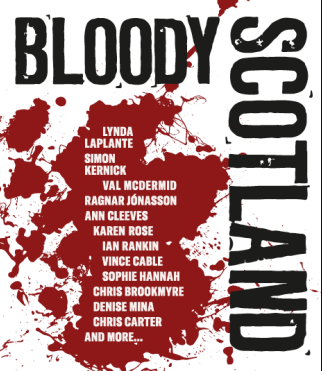 In 2017 Bloody Scotland partnered with Historic Environment Scotland to produce the Bloody Scotland book of short stories It has been reprinted for  the 10th Anniversary and will be distributed free of charge throughout Stirling and the surrounding areas. Great way of encouraging more people to read and get to know Bloody Scotland!
CHEAPER TICKETS
To mark our 10th Anniversary  Bloody Scotland is offering a limited number of tickets at £5 each for 10 of the events – see bloodyscotland.com/10-at-5
A 10% discount is available for all events in Stirling to people residing in the Stirling Council area – see bloodyscotland.com/localdiscount
Stirling is the place to be this September!