#DestinationBooktrail – Alsace – #Authorsonlocation – Sue Moorcroft
Sue Moorcroft is here today talking France, her research for her novel Just for the Holidays and how the book was meant to be….There were a few reasons why this book just fell into place…
So, Sue, tell us more…
I'm a pragmatic person. I chose the setting for Just for the Holidays for two reasons:
The holiday story recounted to me by a friend Andrea did take place in France
Another friend, Julie, had recently moved to Alsace and said, 'Come and visit any time.'
I knew almost nothing about Alsace apart from what I'd learned in history lessons and was unprepared for its beauty. It seems to me rather like Wales is to England: sharing a larger identity but with a different character, its own language and a lot of names that are typical of the locale.
The book, like my trip, centres on two areas of Alsace – the City of Strasbourg and a village half-an-hour outside it.
Strasbourg is a lovely city. Some of the architecture, to my English eye, has a strong German flavour, understandable not just because the region shares a border with Germany but that it was in the past annexed by that country and then returned to France. The bridges over the River Ill, which flows through the city, are bedecked with flowers. I thoroughly recommend a couple of hours on one of the glass-covered barges or Batorama as a means of sight seeing.
The gothic Cathédrale Notre-Dame de Strasbourg is probably the most impressive building I've ever seen. It's so gorgeous that deckchairs are provided for those who want to sit and gaze at it. It's extraordinary beautiful, imposing, intricate and almost overpowering.
It was important that I learn something about the food and drink of the region. My favourite drink proved to be Cremant d'Alsace, a sparkling white wine that tingles on the tongue. Rosé pamplemousse is a tasty alternative, a mixture of rosé wine and grapefruit juice, and Fischer beer a welcome quencher on a thirsty day. I saw many a teenager with a bottle of iced tea or a fizzy peach drink but, fancying neither, I gave them to the teenagers in Just for the Holidays, Natasha, Jordan and Curtis, instead.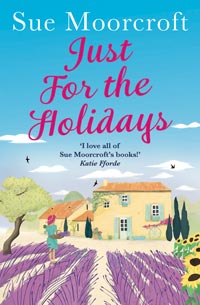 An important part of my research was conducted at l'Hôpital civil de Strasbourg. I hope that, unlike my characters, you're not obliged to be taken there! Julie translated while I asked a kind nurse what would happen to my character and his family, and then we went out an inspected the ambulances and watched people being loaded on board to be taken to another hospital. (I sometimes think it's a wonder novelists don't get arrested in the course of their research.)
As in many others of my books I took the liberty of shifting the landscape around to make room for the village of Kirschhoffen and the town of Muntsheim. I like to create my own settings for the sake of flexibility but I did call heavily on the Alsatian village (or small town) where Julie lives for the houses and shops, trams and parks; even the pizza machine and the large rodents, Coypu, that populate the streams.
Although Alsace produces a lot of corncobs in its fields there are examples of beautiful sunflowers (see cover) in July and August, too, turning their heads to watch the sun move through the sky to earn their French name of tournesol.
If you're fortunate enough to get the chance to visit Alsace, I hope you go. I also hope your trip's a little more relaxing than that of Leah and the rest of the characters in Just for the Holidays!
Thanks for stopping by Sue! Off to water those lovely flowers again now and possibly try some Cremant d'Alsace x
Twitter @suemoorcroft     Facebook author page: /SueMoorcroftAuthor   Website: www.suemoorcroft.com.