Travel to Orkney with Caroline Lea
Discover the Metal Heart of Orkney
Travel to Orkney with Caroline Lea – The Metal Heart is the new and wonderful novel by Caroline Lea. Recently the author has been inspiring everyone with a mini tour of  her literary setting- Orkney. So, with her kind permission, The BookTrail takes you back for a little wander and literary delights….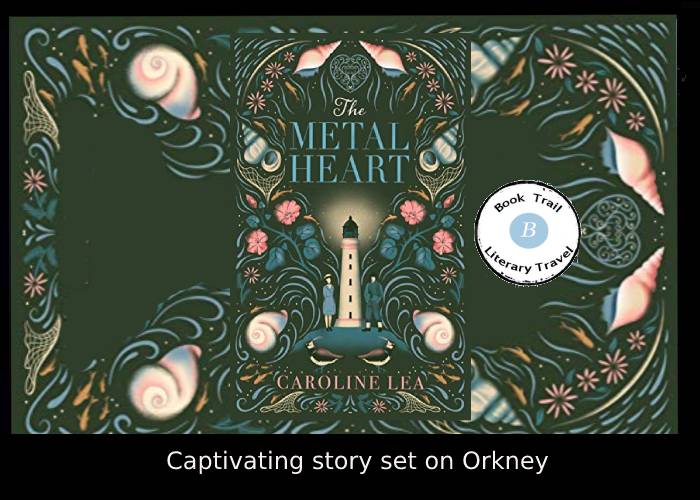 Orkney, 1940. Five hundred Italian prisoners-of-war arrive to fortify the remote and windswept islands. Some islanders are welcoming, others very hostile. When one women falls in love with one of the men, what will happen to both of them?
And now, let's visit the setting of Orkney…Caroline it's over to you…
You are in for a TREAT!!!
First…the main setting of the novel THE ITALIAN CHAPEL OF ORKNEY
This is inspired by a true story of the Italians who built a small chapel on Orkney which you can still visit today. Oh and the author gives a lovely nod to the fantastic Orkney Library!
First of all, take a moment to look out to sea from Orkney and appreciate the very scenic surroundings!
The other end of the #ItalianChapel, showing the incredible skill in creating the illusion of brickwork. It's paint on plasterboard, but it looks just like stone. The hours of love that must have gone into this.
The sanctuary of the gorgeous #ItalianChapel that inspired my book. There are so many symbols of peace in the fresco – it's worth zooming in to look more closely.
Next, just look at the step outside the chapel. The tiles were salvaged from sunken WW1 vessels. I love the way that every detail of the #ItalianChapel has been so beautifully designed.
Here, you can see the edifice the prisoners constructed over the front of the chapel. It's made from concrete, intended for the wartime sea barriers, with scrap metal from sunken WW1 vessels. Conjuring light in the darkest of times.
If that's not enough, then there's the wonderful detail …
In this picture, the font was created from a car exhaust, covered in concrete. Hard to believe that's possible. I love the idea of this artistic sleight of hand and such beautiful creativity born rising from dark circumstances.
These beautiful lamp holders in the #ItalianChapel were made from old beef tins.
Thank you Caroline!
And that, is just a taster of the wonderful setting and scenery that Caroline has created in her novel. In conclusion, quite simply, The Metal Heart is wonderful and I would urge you all to read it as soon as you can.
Twitter:@CarolineleaLea