Laos – KELLEY POWELL – The song of the Merit Birds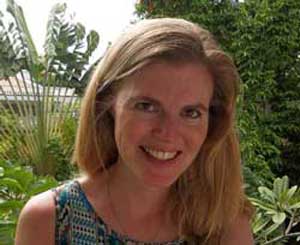 Sitting on a beach in Laos, eating barbecued chicken with papaya salad on the side….nice work if you can get it. And here we are today with Kelley Powell who has written a YA novel about the trauma which can result from moving to Laos from Ottawa – more so if you are a teenager like in the book.
Then there is the theme of the Merit Birds – what are they and what do they mean? We're going to find out. Now that a plate of chicken feet has come out, it looks like the best time to stop eating and start chatting…
The Descriptions of Laos are so evocative and real! You've lived there and worked in a domestic violence research project. Do you think your work has enabled you to see the dark side of paradise?
I think every country has elements of paradise and elements of the dark side (Darth Vader breathing here). Laos is the most heavily bombed country in the world, one of Asia's poorest nations and one of the few remaining communist states. The dismal facts make Laos sound like a horrible place to live. It isn't. No doubt, people struggle through poverty and inadequate health care, but despite it all a certain brightness, gentleness and sense of humour persists.
What about Laos would surprise someone who has never been there?
The unfaltering "Boh Penyang" (no worries) attitude. People truly don't get irritated by much – they choose to laugh instead. In early drafts of The Merit Birds my character Somchai epitomized this attitude but none of my early readers believed him! They didn't think his character was realistic, so I had to give him at least one angry outburst.
What's it like riding in a tuk tuk?
In a country where temperatures soar and just walking makes you sweat, riding in a tuk tuk is like sailing on the ocean. The air feels cool on your face, the wind catches your hair and you feel refreshed. In a tuk tuk you are up higher than you would be on a motorbike, or while walking, so you catch a glimpse of things you wouldn't see otherwise. Because there are no windows, you are immersed in the sights and sounds of the street.
Can you tell us a little more about the meaning and significance of 'The Merit Birds'?
Allow me to use the age-old trick of flipping the question back to you, dear reader. After reading the story, what does the image of a merit bird mean to you?
How did you research the scenes within the prison? – they are full of raw emotion!
Thank you! I spent a month in prison because I am so dedicated to my craft (just kidding – although that would make a good story in itself). I read a lot of prisoners' testimonies and also used my imagination. I am fascinated by what human beings can endure. People are so strong.
You've woven so many human emotions in this novel together with culture, politics, poverty and wealth. The Laos culture and people really stand out. What do you think we could learn from them?
I think Lao people have much to teach the world with their tolerance, acceptance and focus on what really matters in life. Most Lao people love to laugh and don't take themselves too seriously.
This is a YA novel but could be enjoyed by anyone as we can all learn something from it! What would you like the reader to take from it?
The beauty of a story is that readers will take what they need from it – it will be different for everyone. I would be keen to know via social media!
With many thanks to Kelley for bringing the barbecued chicken feet-  this may not be one thing I take from the Laos culture after all, but I will the other themes in the book!
Susan Booktrailer
Booktrail Boarding Pass Information:
Twitter @kelleypowell20.
Facebook: /KelleyPowell20.