London – GOLDSBORO BOOKS – Lord Harry of Goldsboro
Booksellers are book ambassadors  – diplomatic when people ask funny questions in bookshops such as ' do you have the one with the blue cover?', helpful when suggesting a new country to travel to via fiction and always partial to a bit of cake. Mr Harry Illingworth, of Goldsboro books in London or Lord Goldsboro as we named him a while back is like the Gandalf of the book world for he is more than an ambassador, he has special powers, special first edition powers that are a book lovers dream.
So when we were invited to spend time in his Goldsboro kingdom, we jumped at the chance.  He had made cakes, had put the kettle on…so we needed no further invitation……Be prepared to go on a very special journey into the Book kingdom that is the land of Goldsboro –
So, have you always wanted to work in the book world? Have you always been a reader?
I've definitely always read. I loved Harry Potter in my youth, like most normal people, and I enjoyed lots before that, but I never was one of those guys who felt the need to devour all the classics really. In my late teens it was mainly rock autobiographies and similar, as I worshipped bands like Guns n Roses and Led Zeppelin, that kind of thing. It's funny because now I read no non-fiction, although I'm definitely going to dive in to Kevin Pietersen's and Amy Poehler's autobiography. But I didn't always know the book world was where I'd end up, in the position I'm in anyway, even though I studied English Lit and Creative Writing at university. If anything I wanted (tentatively) to be a writer first of all, but knowing that to be a dream to be contained I thought about getting into advertising. Then I realised that publishing had been staring me in the face the whole time and was exactly where I needed to be, and I've found myself in the perfect place.
 What do you love about your job?
Where to start? I should explain that my job takes on two forms – I work for Goldsboro Books and DHH Literary Agency. They are connected by David Headley who runs both businesses, and I am his assistant. I love the fact that I feel like I'm making progress towards my goal of becoming a literary agent, but on a day to day basis with Goldsboro there's much to enjoy. I meet authors constantly, and other people in the publishing industry. There's an amazing social aspect to what I do and I've been to some incredible places and events I could never have gone to otherwise. I do a lot of PR work for both businesses which I really enjoy, whether it be social media and/or newsletters. But in general, I'm surrounded by beautiful books every day, I get on great with my colleagues, and I get to read fabulous books before they are published and then shout about them and pass them on to other readers. For the agency, the ultimate thrill is discovering a new author and working with them and David to prepare their manuscript to send to publishers and hopefully getting them a deal.
Goldsboro Books is a haven of special signed and first editions. Any books you are coveting at the moment?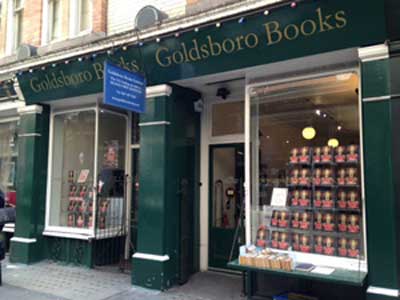 Pretty much all of them. Any special edition we produce at Goldsboro is because someone has either fallen in love with it or seen potential in it becoming collectable, so I always want to get one of those for myself. I also buy a lot of debuts. We've also got thousands of classics on the shelves and in the windows which I'd do anything for. We recently sold a rare signed and illustrated Bukowski that I'd never seen before and it was my favourite book in the shop. I was devastated when it sold, but I couldn't afford it and it went to a great home; the man who bought it had known the illustrator and met Bukowski himself.
You've appeared on the Picador blog and recently had a Station Eleven display and event. How did that go?
Everything to do with Station Eleven was so much fun. It's one of my top books this year and we teamed up with Picador to do a competition where we would create our own Museum of Civilisation and then donate it to a winner (if you don't know what the museum is you must read the book…). We asked people to tweet us items that they would save in an apocalypse and I'm sure if you searched the #Station11 you would still find examples of items people told us. In fact, it was on the Picador blog I wrote that we announced our winner, @liveotherwise, who received the contents of the museum just recently. When Emily came over to the UK we also hosted the launch for the book which was a huge success, and I'm delighted that we have sold so many copies of what is a remarkable novel.
 What have been your favourite books of 2014?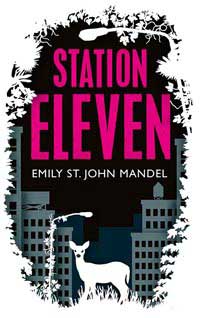 It's hard to pin down 'favourites' but I'd have to say that this year, for me, these books have been a cut above (in no order…):
The Enchanted – Rene Denfeld, The Bone Clocks – David Mitchell, Station Eleven – Emily St John Mandel, Smiler's Fair – Rebecca Levene
The Incorruptibles – John Hornor Jacobs, A Pleasure and a Calling – Phil Hogan, Fourth of July Creek – Smith Henderson, Tower Lord – Anthony Ryan, Red Rising – Pierce Brown
They're all magnificent, for many different reasons, and I'd be here all day if I even began to start explaining why. But they're all must-reads, in my opinion, and I'm sure I've forgotten a few!
Which author would you really like to meet that you haven't and who has been a highlight?
I've been lucky that I've met so many incredible authors already, many of whom I've admired or loved for years, like Neil Gaiman, William Boyd, David Mitchell and Joe Abercrombie to name some. Whenever I read a debut novel that I fall in love with, I cannot wait to meet the author if they're coming in to sign for Goldsboro and bombard them with questions. There's so many I'd still like to meet, many of them American though which makes things tricky. I met Donna Tartt for the briefest of moments when I went to an event of hers and she signed my book for me after. She's a real idol of mine so I basically froze, told her how much I loved her and made a fool of myself, but I'd really love to meet her properly one day.
Thank you so much for our visit today Harry. We'll be back as well there's still so much we would like to know about this fantastic book emporium of yours. So farewell for now…..and thanks for chatting today over cake!
Visit: goldsborobooks.com