Confessions of a Literary Traveller – Johana Gustawsson
Authors are literary travellers and not just in their books. They attend book fairs, author events and all kinds of writing and reading festivals up and down the country, and across the world.
So, what is 'life on the writing road' really like?
Exactly a decade ago this year, the 9th of January 2009, I moved to London from Paris, after spending seven years in the French capital. I was then a journalist for a few French magazines, and I started working as a ghost-writer as well, working on the biography of a French soap opera actress. Business trips were part of my daily life in Paris, so when I suddenly found myself working in a my totally silent London flat (I was childless back then), I felt lost: I terribly missed the buzz of the magazines' office and the interaction with my colleagues and the people I used to interview. I was almost talking to my cactus, which is the only plant I have, as it is almost impossible to kill.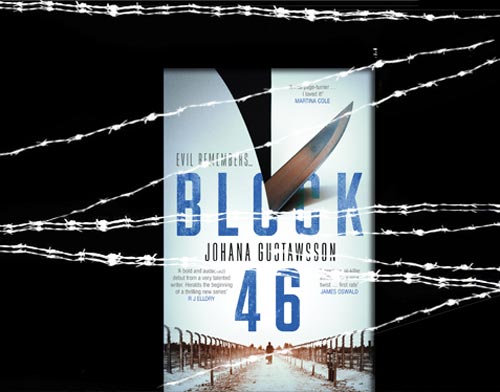 When "Block 46" got published in France, back in 2015, its success came as a total surprise to me: I didn't think I would be able to make a living out of it, and even less travel the world to talk about my work and passion. But that's what happened, and in 2016, I got invited to wonderful festivals abroad, to chat about crime and punishment, and all those bloody ideas that come up when I change nappies.
At the end of last year, a wonderful Argentinian author that I met at a crime festival in Lectoure, in France's stunning South West, recommended my books to his Spanish publisher who fell in love with "Block 46" and bought the translation rights for both Spain and Latino America for my three first novels, knowing that I was still writing the third one, "Blood Song"!

Straight after that, the organiser of a fantastic crime writing festival called "Valencia Negra", who I met a couple of years back, when Block 46 was first published in France, called me to invite me to participate in the spring of 2019. It was quite an emotional moment, as all my Spanish family lives in a small village in the Valencia province: they will now be able to read my books (and discover what a twisted mind I have). We were all over the moon. But, Jordi, the festival organiser, said to me : " Johana, our festivals, here, in Spain, are nothing like the ones in France: you don't sit behind a table like a shop keeper selling your books: you animate debates, conferences and then at the end, you sign some books for some readers." Because indeed, that's the thing that would surprise so many of you: in France, festivals are very different: they focus on meeting readers: during the whole day, generally 10h to 18h, except for lunch time (yes, the 'déjeuner' is sacred for us: no sandwich allowed!) you sit behind a table, next to your colleagues, and readers come and talk to you about your books, your characters, your universe, what touched them, what moved them… You talk extensively and get very personal and very emotional too.
I remember my first "Quais du Polar" in France, the biggest international writing festival of the country, when I met Émilie, a blogger who was the first one to have read "Block 46"; we actually cried when we got to finally see each other for the first time! I also met a reader who didn't believe I was Johana Gustawsson: he laughed and said to me: "No no no, Gustawsson is older and blond! You do not look Swedish at all!"
When I was touring in Italy for "Keeper", the second in the series, I was heavily pregnant with my twin boys. Traveling was quite exhausting as my belly was very heavy very early on (I was asked many times if I was about to pop when I was just 5 months pregnant!). At the Torino book fair, readers were insisting on me seating to sign the books, and one of them even went to look for an armchair, as the chair I was using was not comfortable enough for a pregnant lady!
And that's what all the crime writing festivals over the world have in common: the recipe can be different, but you meet passionate people who are as crazy as you are about reading crime and willing to discuss about it all day, but underneath all that crime addiction, there is a huge amount of kindness. Which makes you wonder: maybe reading/writing crime is cathartic, in a way?
Merci Beaucoup Johanna
Twitter: @JoGustawsson Web: johanagustawsson.com/fr/