Books set in England, The desolate landscapes of Matt Wesolowki
Six Stories, Hydra and Changeling
The desolate landscapes of Matt Wesolowski are a mixture of woods, small villages and remote coastal settings. Books set in England, The desolate landscapes of Matt Wesolowki are a mix of fictional woods or villages . Based in and around real places where dark deeds take place. Or an abandoned mining town on the coast….
This series of books is very special indeed. Written in the form of podcast interviews. Tapes of witnesses explaining what happened, what they think they saw. Noises on tape that can't be explained. Witnesses going back to the scene of the crime to think what they did, what they saw and where they were.
A journalist trying to get to the truth.. Books set in England, The desolate landscapes of Matt Wesolowki
Dark woods and an outbound centre
Where it all started. This is book one in the Six Stories series.
The setting here is clearly Northumberland but the woods aren't real and neither are the crags mentioned in the story. Just as well really, given what happens. A journalist investigates what happened  back in 1997 at an outbound centre in
Northumberland. This was the date when the body of teenager Tom Jeffries is found. Who killed him and why?
Remember your outward bound days at school or brownies/cubs or even older? Ever camped in the woods with friends? This will freak you out. The woods themselves are a major character as well as setting in the book. Listen on audiobook for an amazing immersive experience!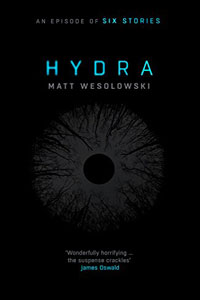 Rural countryside
Slightly different in the sense the woods aren't the major player here, Hydra is set in abandoned coastal towns. Somewhere along the coast between Blackpool and along the North West coast, this is a chilling and desolate landscape. Abandoned mining towns, cold beaches, rough seas and forests separating one town,one settlement from another.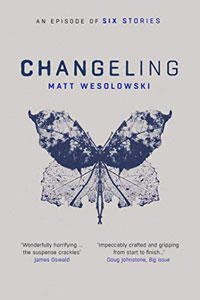 The woods straddling Wales and England
This is the BookTrail favourite so far. Dark woods, a car stops with a man and a child inside. Somehow the child disappears never to be seen again.
The dad says he's innocent. He heard a strange tapping sound before he stopped the car to take a look. Seems that several people claim to have heard strange noises in the woods. Noises they say come from fairy folk or spirits/people of the forest.
It seems that these woods are on a very specific location – a former roman road, an ancient parkland, one where things have been found, and heard for centuries….
In all three books, the setting of a remote, harsh and dark location is a major character in the story. The form of a podcast brings these stories to even more glorious life the longer you read.  Matt has a skill of drawing you in and his trees, his forests, his dark, cold countryside swallows you up whole..
BookTrail Boarding Pass: Changeling
Twitter:   @ConcreteKraken
Matt will be Forum Books, Corbridge, Northumberland on Monday 14th January to launch the latest in the Six Stories series. There are woods nearby….. 😉