Hydra
Why a Booktrail?
2014: A woman kills her family but what really happened
What you need to know before your trail
In November 2014 Arla Macleod bludgeoned her mother, father and sister to death with a hammer. Now incarcerated at a medium-security mental-health institution, Arla will speak to no one but Scott King, an investigative journalist, whose 'Six Stories' podcasts have become an internet sensation. King finds himself immersed in an increasingly complex case, interviewing five witnesses and Arla herself, as he questions whether Arla's responsibility for the massacre was a diminished as her legal team made out.
Travel Guide
Stanwel ( North West England)
Fictional setting of the village where the crime took place but it's in the North West of England as  it's mentioned as being on the coast just a little north of Blackpool.
It's not exactly the location but the heritage of the setting that is king – a small rural town with a past and with a community where people know and knew each other. Where memories are hard to fade.
"Stanwel – with one 'l'; and apt symbol for the attitude of the town; stubborn, resistant to change -was once a thriving coal-mining community on the northwest coast of the United Kingdom."
"The Stanwel colliery was closed by the national  class board in 1965 – long before the miners strike of the 1980s Some say that Stanwel itself closed then too. the town never recovered, the silent towers for the Stanwel coal-fired power station still stand along the coastline; bleak, monolithic reminder os s bygone age".
"Stanwel is  hard place, crouched on the Fylde Coast north of Blackpool"
The Macleod family came to live here when Arla was two years old. Her mother Lucy fled a life of poverty in Saltcoats Ayrshire. This faded, forgotten town highlights the case being discussed on the podcast. It's a story that has never gone away, has kept floating around the town which washes up every now and again. Debris which is never really dealt with….and the traces of the truth all but erased…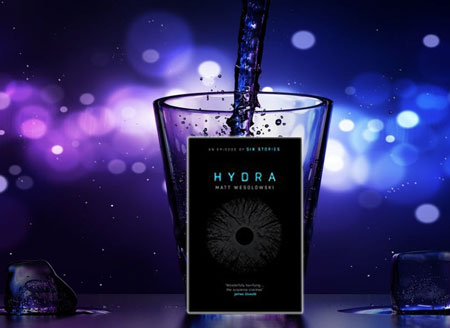 Booktrailer Review
Susan: @thebooktrailer

Unique and devilishly good is an understatement!

Six stories plus plus!

A novel written in a series of podcasts about a woman in a hospital for having murdered her family.
But why and what really happened? Several interviewees including the woman herself chat to the famous podcaster from Six Stories as he investigates another mystery.

This gets right down to the bone when it comes to the human psyche and mental health. Reading this at night made sleep an elusive dream! There's strength in the writing, sheer brilliance in the dialogue and a frisson which stays with you long after reading. Full review on tour but don't hesitate to pick this one up!

Ideal for your New Year health kick – Get HYDRAted 😉
Booktrail Boarding Pass:  Hydra
Destination: Lancashire  Author/Guide: Matt Wesolowski  Departure Time: 2000s
Back to Results