Demon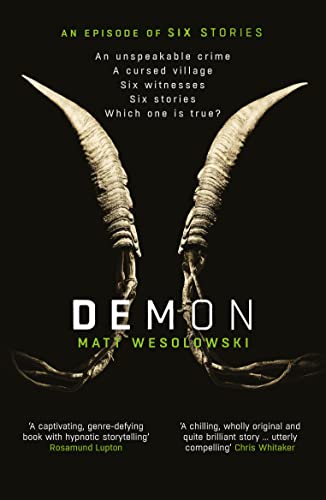 Why a Booktrail?
1995: Two boys kill another child. What was behind the murder?
What you need to know before your trail
In 1995, the picture-perfect village of Ussalthwaite was the site of one of the most heinous crimes imaginable, in a case that shocked the world.
Twelve-year-old Sidney Parsons was savagely murdered by two boys his own age. No reason was ever given for this terrible crime, and the 'Demonic Duo' who killed him were imprisoned until their release in 2002, when they were given new identities and lifetime anonymity.
Elusive online journalist Scott King investigates the lead-up and aftermath of the killing, uncovering dark stories of demonic possession, and encountering a village torn apart by this unspeakable act.
And, as episodes of his Six Stories podcast begin to air, and King himself becomes a target of media scrutiny and the public's ire, it becomes clear that whatever drove those two boys to kill is still there, lurking, and the campaign of horror has just begun…
Travel Guide
BookTrail the Demon trail of Yorkshire
Ussalthwaite is fictional but somewhere in the North Yorkshire National Park. Youre going to be pleased it's not real as Matt W has populated this village with some strange people and a village with a very dark and mysterious past….
The hilly area above the village where the caves are, is shrouded in mystery and death. This was the place where men were killed in the mines many years earlier. Something stalks this land still. Some children call it a special place and seem drawn to it. Or is it that they can't escape what is there?
There is suicide, animal death and more disturbing acts still around these parts. No one can explain why two young boys should kill another. Were they possessed or do they really know that the demon made them do it?
BookTrail Boarding Pass: Demon
Destination/Location: North Yorkshire, 'Ussalthwaite'  Author: Matt Wesolowki  Departure: 1995
Back to Results