Deity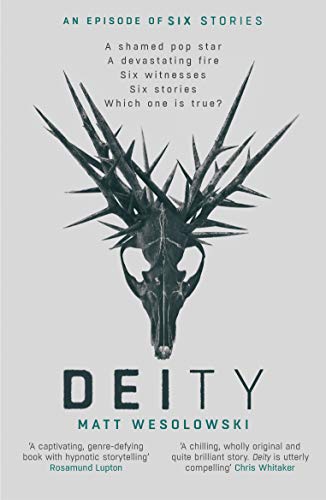 Why a Booktrail?
2000s: A shamed pop star. A devastating fire. Six witnesses. Six stories
Which one is true?
What you need to know before your trail
When pop megastar Zach Crystal dies in a fire at his remote mansion, his mysterious demise rips open the bitter divide between those who adored his music and his endless charity work, and those who viewed him as a despicable predator, who manipulated and abused young and vulnerable girls.
Online journalist, Scott King, whose Six Stories podcasts have become an internet sensation, investigates the accusations of sexual abuse and murder that were levelled at Crystal before he died. But as Scott begins to ask questions and rake over old graves, some startling inconsistencies emerge: Was the fire at Crystal's remote home really an accident? Are reports of a haunting really true? Why was he never officially charged?
Travel Guide
Cairngorms National Park
Barlheath is a fictional village which is mentioned frequently in the novel. Aviemore is of course real as are the Cairngorms and the woods….
If there's a wood you're going to be scared of, it's the woods in Matt's books. Some are real, some aren't but the one in the book is perhaps one of the scariest and most foreboding to date.
The Cairngorms is a great rural expanse of land and is the perfect place for someone to live off grid, and for something to exist in the darkness recesses of the trees and tangles.
The woods here are the new home for a recluse of a popstar. Not just any popstar legend but one who is so famous, if you mixed Justin Bieber, Michael Jackson and all the other ones young girls scream  at and faint in front of, you wouldn't be even near to the character in the novel.
Imagine a popstar at the height of his fame removing himself from the world and going to live out here. Strange things have happened in these woods, people want to try and find him, get close to him….but there is something in those woods, you really don't want to see…
Booktrailer Review
What a series this is turning out to be!

Very timely sadly – a celebrity is accused of the worst crime imaginable. Then he's found dead. Who had the biggest motive? Six stories to find out.
BookTrail Boarding Pass: Deity
Destination/location:  Aviemore, Caingorms  Author/guide: Matt Wesolowski  Departure Time:  2000s
Back to Results