DCI Banks Heads to Eastvale – Yorkshire – Peter Robinson
All week, Peter Robinson has been wandering around Yorkshire preparing his new book, doing research and following in the footsteps of DCI Banks.  He's sent a postcard from every step of the way and here is the full collection for your Friday delectation: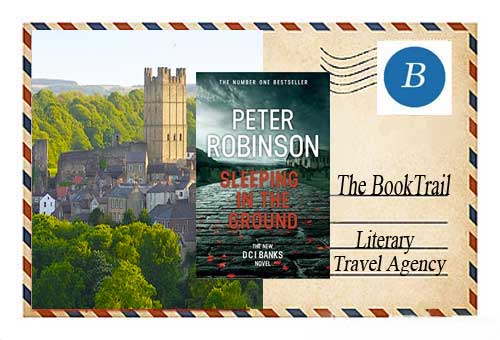 Eastvale
Richmond should be on the Trail because it is my Eastvale … where the police are based, and where they spend a fair amount of time in the pub!
Leeds …
This is the town where I grew up and went to University.  It is also the nearest big city and consequently many of Bank's cases lead him there for information or background. He often consults with a pal, DI Ken Blackstone, there.
Northallerton …
This is where the run-down hangers are where the body in Abattoir Blues was found.     I spotted them from the train as I was passing, and they seemed to be crying out for a scene of the crime moment!    I don't think they exist now.
Whitby Bay
There is a nursing home on the cliff … possibly around the Robin Hoods Bay area where  Lucy was (secretly) here to recuperate after her fall at the end of Aftermath.
Thrushcross Reservoir
The body was found and West End is the village that was drowned in In a Dry Season. In the hot summer of 1996, there was a drought and the bottom of the reservoir was laid bare. You could see the outlines of the streets and an old packhorse bridge where the river once ran. It had to feature in the book!
Helmthorpe in the book is Hawes in reality.   The body in A Dedicated Man was found half way up the hill … to the north of the town, half buried under a drystone wall.
Coalsgarthdale
The real name of my imagined town, Kilnsgarthdale, where the body was found in Before the Poison, and that's where the my characters', Grace/Chris, house is, along with the lime kilns.
Barnard Castle
Near Barnard Castle is the disused railway line in Children of the Revolution, where the body was found.  It is near Lartington. It used to be part of the South Durham & Lancashire Union Railway, and the old station is still intact.
Banks' home is in the village of Gayle, by Hawes… Just half a mile or so up the hill, past the Wensleydale Dairy Products factory.
Garsdale
The village of Swainshead in The Hanging Valley, and the valley itself, are in the Garsdale area, west of of Hawes, where not far from the source of the River Ure. That's where the maggot-ridden body was found by an unfortunate walker.
Web: Inspectorbanks.com