An alternative Edinburgh with Doug Johnstone
Sometimes a novel comes along that causes a shiver to run down your spine. The location seems so real, yet you know it can't be….can it?
Author of FaultLines set in an alternative Edinburgh is here to tell us more…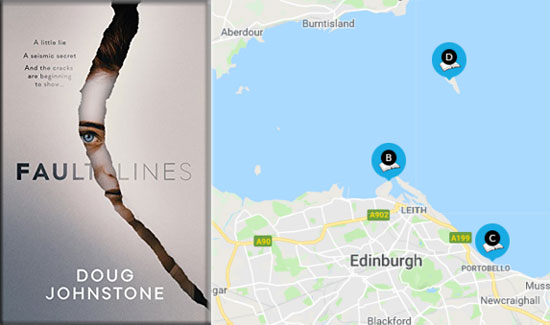 Just how real is Fault Lines? There is an island where you say there's one!
Not quite, the island you're referring to is Inchkeith, which is a little to the west of my fictional Inch. There are actually a handful of islands in the Firth of Forth, the Isle of May, Inchgarvie and Inchcolm too, which has a ruined abbey and you can tour round, but my Inch is very different, in that it has just emerged from the sea twenty years ago, while the others are millions of years old. But I looked at new volcanic islands all over the world for research to try to make my fictional island as realistic in terms of geology as possible.
How did you come up with this idea?
Many years ago I visited Reykjavik to interview Arnaldur Indridason. I went to Iceland's Culture House and there was an exhibition on Surtsey, a volcanic island that was born in the 1960s off the coast of Iceland. I was obsessed with the place and knew I wanted to write about it. Years later I was asked to write a story on the theme of Elsewhere by the Edinburgh Book Festival, and I wrote a story called 'Surtsey' which was the starting point for this novel. I had my main character and my setting, then I thought I wanted to set it in Scotland, and think about how having earthquakes and volcanoes on your doorstep would have an effect on the way people live their lives.
Edinburgh is known for its volcanic history – why does this landscape fascinate you?
Volcanoes, whether their active, dormant or extinct like Arthur's Seat, are inherently dramatic things, right? And the real Edinburgh is a very dramatic city. I've used that a lot in my previous books, whether it's Salisbury Crags, Portobello Beach or further out at the Forth Road Bridge. And I felt that adding my own weirdness to Edinburgh would only enhance the drama, and the sense of tension that runs through the story.
Location, location, location…
I live in Portobello where the book is mostly set, so I see it every day! I'm obsessed with islands, and try to visit them in general whenever I get the chance. There's something refreshing but also claustrophobic about islands that I love, and that's useful for writing a tense thriller. I've had two previous books set entirely on islands (Smokeheads and Crash Land) as well as short stories. I would love to visit Surtsey off the coast of Iceland one day, but it's not allowed, scientists only.
How did you research the setting?
I read lots of books about volcanology, seismic science and geology. I did a lot of online research about those things too, about how volcanic islands are formed, and how tectonic plates move, which was fascinating. But ultimately, I think it's important not to try to cram too much research into a book – you should try to forget all the research when you write, and hope that your knowledge will seep into the cracks between the words.
The murder/mystery angle is very well done. Was it a challenge to write a character with such a secret?
I quite often write from the point of view of central characters who have a deep, dark secret, so I didn't find that too difficult. I could get into Surtsey's disturbed mindset well enough, I think. But I do sometimes struggle with the whole aspect of solving a mystery, with clues and twists and so on – I think I'm still learning in that respect. So I'm really glad you thought it was well handled!
You have an interesting past – in nuclear physics! Did this help at all with the science / sci-fi angle?
I suppose it did a little, but there's only a little bit of crossover between physics and geology. I think my scientific background in general really helps with writing novels. People tend to think of science and the arts as opposites, but I strongly disagree, they both combine creativity with problem-solving skills.
Thank you so much for a thrilling tour of Edinburgh Doug!
BookTrail Boarding Pass: Fault Lines
Twitter:  @doug_johnstone  web:  dougjohnstone.com