Travel to the Wild Coast of the Scottish Highlands with Lin Anderson
Wild Coast with Lin Anderson
Lin Anderson, author of some of the best Scottish crime fiction is taking us all the way to the Scottish Highlands – the Wild Coast to be precise. A body has been found. Well, Lin put it there. So, what makes an auhor find such a beautiful spot for dumping a body? Haha only in fiction!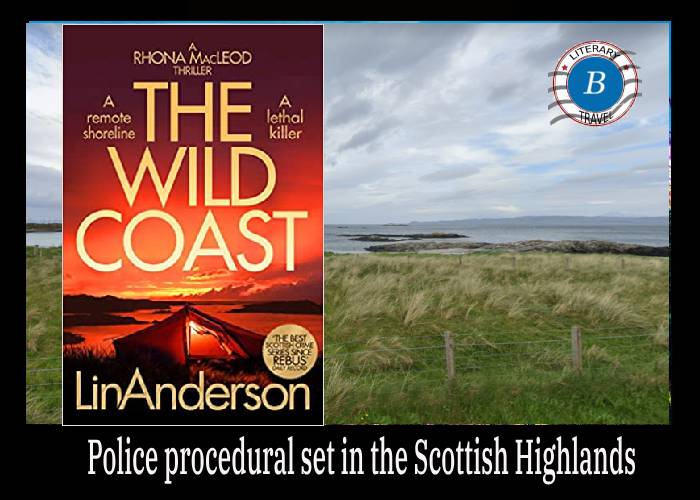 I often head west in the campervan from my home village of Carrbridge. I love swimming in the magical white sandy bays there, in particulat around Arisaig.
On our first visit west post covid, we stayed at a tiny campsite right on the beach, where I noticed that there were a number of single person tents, many of them lone females.
Hence the idea for the Wild Coast was born.
The magic and beauty of the west coast of Scotland has to be seen to be believed. The blue of the water on a sunny day, the white sand, the majesty of the surrounding moutains and glens and views west to a multitude of neighbouring islands, large and small, is hard to beat anywhere in the world.
The NC500 road trip has brought people to this place, and many of the campers we saw then were intent on travelling the route which takes them all the way round the furthest reaches of the north of Scotland.
The contrast between the beauty and tranquility of the setting, and the possibility of bad things happening to lone campers was just too good to miss.
And so The Wild Coast was born.
I imagined a young woman arriving at that small campsite on her own, in a small blue campervan. I saw her park in the corner of the field with a view of two neighbouring beaches. I watched as she unloaded her kayak and as always happens in such places, makes the aquaintance of her nearest neighbours, a family with two young children who watch her avidly as she prepares to head out onto the water.
From that moment their lives will be inextricably linked…for better and for worse.
BookTrail Boarding Pass:
Twitter:  @Lin_Anderson   Web: lin-anderson.blogspot.com