Travel to the NYC neighbourhoods of A Friend Is a Gift You Give Yourself
William Boyle's gritty and noir thriller set in Brooklyn
William Boyle is the ideal literary guide! Care to discover not just the literary locations but some of the best pizza in Brooklyn? This man knows his city like the back of his hand. Travel to the NYC neighbourhoods of A Friend Is a Gift You Give Yourself: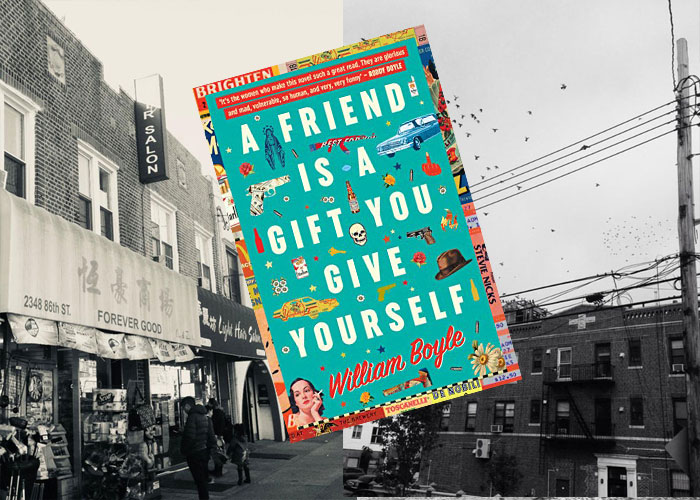 Tell us more about the vibrant neighborhoods 
The book begins in the Bensonhurst/Gravesend neighborhoods of Brooklyn, where I'm from and where my family still lives. This is Southern Brooklyn, not far from Coney Island. When I was growing up, it was predominantly an Italian-American area (my family on my mother's side is all Italian). It's still a working class immigrant neighborhood now but the ethnicities have changed—it's predominantly Chinese-American and Russian-American. It remains vibrant and interesting, with lots of markets and restaurants. The El runs right up Eighty-Sixth Street, and it's about a forty-five minute train ride into Manhattan.
Dyker Heights
Later in the book, we stray into Dyker Heights, one neighborhood over. My mom has worked for thirty-plus years in a doctor's office there. It's generally wealthier, with lots of big gaudy houses filling out the blocks but the main stretch of Thirteenth Avenue is full of shops and dingy apartments. I imagined Lucia's dad living in one of those apartments.
Throggs Neck
Throggs Neck in the Bronx is where my wife's family is from. Her dad owned a bar there for twenty-five years. We lived there for a while when we were first married. It's another end-of-the-line neighborhood. The Throggs Neck Bridge crosses over the place where the East River meets the Long Island Sound. It's a pretty diverse neighborhood now, but for a long time it was heavily Irish. Silver Beach—where Wolfstein's house is located—is an amazing little community that feels distant from the city and unlike almost anything else in the five boroughs.
Monroe
Then there's the town of Monroe, where much of my wife's family currently lives. It's about sixty miles outside the city. Her family left the Bronx right before she was born and settled there. It's one of those Hudson Valley towns that feels somewhere between suburb and country town and city neighborhood; it kind of manages to blend all of those things. It's become my second home when I'm back in New York because we're often up there for long stretches at the holidays.
How did he research the various neighborhoods?
These are all places I'm very familiar with. I grew up in Brooklyn, lived there full-time until I was eighteen and have never been far away from it. I'm still back home at least two months out of the year.
I also lived in Throggs Neck and have spent a lot of time in Monroe. Any research I did about the places was in the form of asking questions of my mother, my grandmother, my wife, my mother-in-law, and other family members and friends.
Since I get back to all of these places often, I also did some ground research, walking and driving routes in the book just to make sure I wasn't missing anything. Setting the book in 2006 meant making sure I wasn't taking for granted that things that are there now were there then.
Does each neighborhood have a unique personality?
Yep. There's a scene in the book where Enzio from Brooklyn winds up in the Bronx, and he thinks how it smells different. It's amazing how different the city can be from borough to borough, from neighborhood to neighborhood. How some neighborhoods can have a lightness or an uptightness or a certain kind of humor or can seem slumped and damaged. Of course, the city's always changing. Much of my perception is rooted in growing up there in the '80s, '90s, and early '00s.
Did you visit all the places in the book?
There's nowhere that's in the book I haven't been. I lived upstate in New Paltz, where Lucia winds up after leaving Monroe with a rogue nun, for almost eight years. This part of Brooklyn is my home and always will be, even though I'm far away from it these days. The Bronx and Monroe I know well through my wife's family, as I said.
What tips do you have for Booktrailers who visit the settings in your book?
If you're in my part of Brooklyn, it's likely for food. Great pizza probably. Or great Chinese food. I recommend walking on Eighty-Sixth Street, taking in the markets, and walking under the El. I love the noise of the neighborhood.
In Throggs Neck, most of my time was spent in the many Irish bars that remain. I also recommend walking through Silver Beach and taking a tour of the SUNY Maritime campus, which includes Fort Schuyler.
New York food and drink to try when there?
Brooklyn: Totonno's, Ciccio's, Spumoni Gardens, and Lenny's for pizza. Lioni's for the best sandwiches. Cookies and pastries: Alba, Bread Plus. In the Bronx, Patricia's where Lucia likes to get her pizza. When I'm in the city, I'm usually getting a falafel at Mamoun's.
The NY humour in the book is pretty special!
These are the voices I grew up with. I love blending myth, legend, and fact. I was always fascinated with the mob. I re-read Jimmy Breslin's The Good Rat as I was working on this book, which is full of transcripts of mobsters talking. As a kid, I'd walk around with my tape recorder, taping my grandparents, my mother, people on the block. It really helped me get at the particularities of their voices. There's no New York voice without the humor that comes with certain phrasings and certain word choices.
The gangster life is full of drama – what research did this require?
My version of the gangster life is highly stylized. I've been reading about people like this my whole life. The craziest thing is that the wacky stuff, the stuff you'd think could never happen, isn't very far removed from the real thing. My first favorite book was Jay Robert Nash's Bloodletters and Badmen. There's always been a conflation of myth and reality when it comes to telling the story of mobsters. For this book, though, the main research I did was immersing myself in the genre of screwball noir. It's something I've always loved, but I did a pretty focused appraisal of it, especially in terms of film.
Wow! That was quite the tour Mr Boyle. Thank you so much for such an intriguing journey into Brooklyn's neighbourhoods. And I'll be sure to eat my way around your neighbourhood as well as booktrail it next time I visit!
Twitter: @wmboyle4  Web: williammichaelboyle.com/