#BookTrailAdvent – Day 8
What Christmas Advent would be complete without a penguin? They love the snow, live in a winter wonderland and probably go sledging when non one is watching. However there is one little penguin who lives for a good book…..
THE Penguin – and we spoke to one of his 'keepers' at Penguin HQ – Sara D'arcy to tell us more…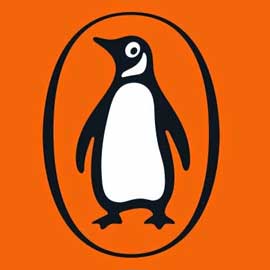 What is your favourite novel set at Xmas time ?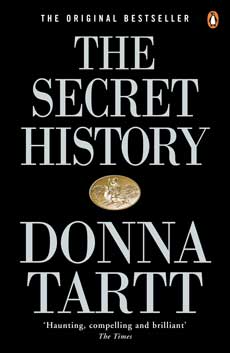 The book I read most recently with a snowy setting, and is therefore at the front of my mind, is Donna Tartt's The Secret History. I really should have got round to reading this classic sooner, but I got wrapped up in the mania of her third novel The Goldfinch and didn't enjoy it, and was then put off reading her earlier work. But I received so many recommendations that I finally gave it a shot and devoured it while on holiday this summer. This book is a classic for a reason: it's gripping literary thriller with an intriguing plot, perfect prose and an eccentric cast of characters who you never quite know what they will do next. The opening lines plunge you straight into the snowy landscape of rural Vermont and straight to the heart of this whydunit:
'The snow in the mountains was melting and Bunny had been dead for several weeks before we came to understand the gravity of our situation.' Who could possibly not want to read on after that killer opening line? 
Favourite thing about being a bookworm at Xmas (getting books as presents, more time to read)
Christmas is the best time of year for being a bookworm. Working in publishing, my reading list is often cannibalised by books that I need to read for work. The Christmas holidays are therefore a time for me to make a dent in my ever-growing reading pile and finally round all of those great books that I didn't get round to reading earlier in the year. I already have Sarah Perry's The Essex Serpent, Eimear McBride's The Lesser Bohemians, Lauren Elkin's Flaneuse (a book about women and walking) and the biography of my favourite novelist Angela Carter by Edmund Gordon at the top of my reading pile. In years gone by, I have added a classic novel to the pile. Last year I re-read Emily Bronte's Wuthering Heights and fell in love with it all over again.
How do you celebrate Christmas?
Christmas is all about family time for me. We have a quiet Christmas day filled with presents, mince pies, a big Christmas dinner and lots of mulled wine. Plus I always manage to grab an hour or two of reading my new books in the evening. Christmas is my cat's favourite day of the year, he loves opening presents, playing in the wrapping paper and the Christmas treats, but he usually collapses by midday with exhaustion.
Christmas is also a time for eating!
I am the sole vegetarian in my family which is at once a blessing and a curse: on the one hand I get first pickings of the nut roast but on the other hand I have the biggest task of making said nut roast. I love cooking though and often try to take over the making of Christmas dinner, much to the chagrin of my mum (as they say too many cooks spoil the stew) but each year we manage without too much squabbling. I am also the only person in my family who loves Brussels sprouts so Christmas dinner with my family is heaven for me. The staples on our Christmas menu are: mulled wine with mince pies and brandy butter for a mid-present opening snack, a cheese board for afters which we never get round to eating on the day and prosecco and red wine with our Christmas dinner. I am not a fan of Christmas pudding so one year I decided to make Nigella's Cappuccino Pavlova for our dessert. It was an absolute disaster and looked nothing like the photos so we've stuck to fancy M&S desserts since – much easier.
A favourite novel you always read or a genre you like reading with a wine by the fire?
I like reading any kind of book with a glass of wine by the fire! My favourite novel is Angela Carter's The Passion of New Eve – it's a rather madcap story set in a dystopian New York where feminist and Black Panther guerrilla fighters have taken over the city making it into a kind of sin city where they reap vengeance on white men. The protagonist Evelyn, who you initially hate and grow to love, is an Englishman who has just moved to this city to be promptly captured by separatist feminists and forced to undergo a sex change where he becomes the perfect image of a Playboy pin-up. When he awakes from surgery he finds 'the cock in my head, still, twitched at the sight of myself.' Carter's prose is beautiful and the story is fantastical and very playful, just a joy to read and re-read!
What book are you going to be giving?
As a booklover, my go to gift is a book. This year I will be giving the stunning Waterstones special edition of The Essex Serpent to my mother-in-law, my boyfriend will be getting Gary Younge's Another Day in the Death of America and my stepdad who is a massive fan of The Smiths will be getting Johnny Marr's autobiography. I will most certainly be buying a book for my mum, father-in-law and friends but I haven't quite found the perfect book for them as yet.
What book would Penguin like to read? Where would he like to travel to this Christmas via fiction?
Penguin has read a lot of incredible books this year. He reads diversely and imaginatively so I think he should read Paul Beatty Man Booker Prize winning novel The Sellout. It is a book that is not only entertaining but thoroughly though-provoking, and kept me questioning what race means and how I as a white woman fit into the race debate. It is set in a fictional town outside of California which tells to story of the Sellout who tries to bring back segregation in a bid to improve conditions for black people who are subject to poverty and institutionalised racism. It's a biting satire about the state of race relations in America now and the insidiousness of racism, but it is unlike anything I have ever read and deserves to be read and enjoyed widely. It will make you rethink everything.
Favourite books this year ….
My favourite books of 2016 are: Paul Beatty's The Sellout, Olivia Laing's The Lonely City (a brilliant genre-blending work of nonfiction which explores city life and loneliness in relation to some of my favourite artists) and a book that I had the pleasure to work on: Jonathan Safran Foer's Here I Am – an at times hilarious and at others heart-breaking story of a marriage falling apart.
….and in 2017?
The books I am most excited about in 2017 are: Yaa Gyasi's ambitious and utterly brilliant debut Homegoing (January 2017) and Mohsin Hamid's Exit West (March 2017). I love Mohsin's mesmerising, silky smooth prose and his brilliant storytelling, and Exit West is Mohsin at his best. It is a love story set to the backdrop of the refugee crisis which will provoke as well as move, and seems just what booklovers should read given the escalating war in Syria and the continual flow of migrants to Europe. And finally I am excited to read Hari Kunzru's White Tears (April 2017) and Liz Nugent's third novel Skin Deep (July 2017) which I expect to be full of killer one liners and characters with dark secrets like her gripping second novel Lying in Wait (paperback out January 2017).
With many thanks to the lovely Sara and of course Penguin himself
(There is a parcel of fish on the way to say thank you and a good book or two) x