A Place to Belong in rural Ireland – Cathy Mansell
A place to belong in Dublin and 1940s Ireland
Cathy Mansell popped over today for a wonderful tour of her latest book's locations. The book – A Place to Belong – set in rural Ireland in the 1940s and the city of Dublin.
The plot? – It's 1943 and although Ireland has escaped the worst of the war in Europe, life for Eva Fallon has not been easy. She escapes a fire in the convent where she's been for ten years and gets a job on a farm. It's there that a chain of events will change her life forever. All she wants is a place to belong, but will she ever find it?
Cathy, it's over to you…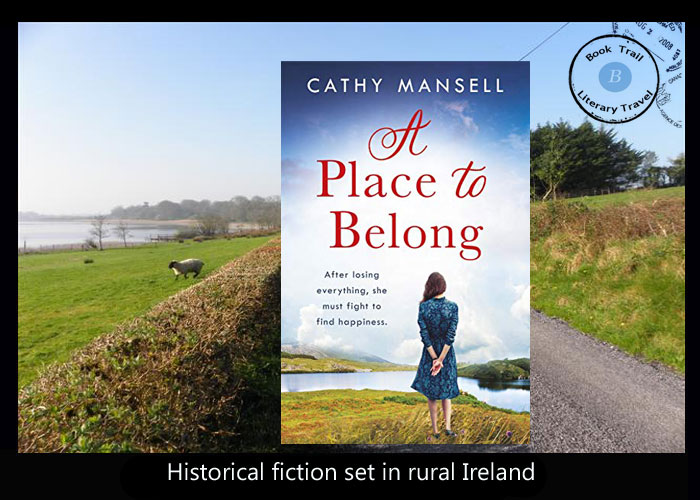 How did you choose the setting?
It chose me! I was looking for somewhere to set my next book, and while searching the internet, I came across the website, A Walking History of Cavan, southern Ireland and learned of a tragedy that had taken place at one orphanage in the town during the 40s and set, A PLACE TO BELONG there. I took a trip to Ireland in 2016 and went to Cavan town, and while there discovered the village of Bawnboy, a gem of a place just ten miles southeast of Cavan town, and fell in love with the setting. Its beautiful lakes, and mountains.
A Place To Belong, features Templeport lake where St Mogue's, an ancient burial site can be reached by boat and where the Beaufighter crashed into the Island during world war two. I felt privileged to have set foot on this historic Island when I was taken by rowing boat with five others across the lake and had my photo taken holding a piece of history from the Beaufighter.
Why the story is important to the setting.
I could not set a Place To Belong anywhere else. Cavan town, the orphanage fire, and the amazing village of Bawnboy is an important part of the story and could almost be a character because of its rural setting, beautiful scenery, mountains and lakes. Eva in my story visits Templeport lake and the Island of St. Mogues.  The clay from the Island is renowned for keeping people safe. The characters in A PLACE TO BELONG are fictitious as is Blackstock's farm where Eva found work and it all adds to the uniqueness of my novel with all the ingredients I needed to write my fictional story.
How did you research it and get it authentic?
I found a lot of interesting information on the internet. The website, A Walking History of Cavan, Bawnboy's Templeport Development Association and Bawnboy.com where I found information about the areas local history. Johnston Central library in Cavan town where I gained information dating back to the 1940s from old Celt newspapers. I got military information about the Curragh camp from Kildare library. Bob Steinke Artisan studio Saddle & Harness Museum was another source of research.
Once I discovered the village of Bawnboy, I was hooked. I was fortunate to meet with historians and some amazing hospitable people in Bawnboy who shared information and answered my many questions; took me across Port lake to St Mogue's Island, a historical burial place, steeped in history where funerals have taken place since the 12th century. And where the Beaufighter crashed into the Island in 1943. Without a doubt, this was the place to set my book.
Have you visited it?
Yes, I've been to Cavan and Bawnboy on two occasions and found the hospitality second to none and they welcomed me into their community. Cavan town and the village of Bawnboy would have been rural in the 1940s with fantastic scenery and lakes and apart from sports and fishing not a lot to draw in your average tourist. So much has changed since then. While losing none of its uniqueness it has many added attractions to entice the tourist, just look on the websites. I would recommend it for a relaxing holiday away from city life. This year Templeport Development Association held their 28th Bawnboy Community Festival bringing the surrounding villages together with music, dance and activities for all to raise money for St Luke's Cancer care and several local charities. With organised boat trip to St Mogue's Island, swimming and sporting contests. The event was a roaring success.
While I was in Cavan earlier this year, I visited The Marble Arch Caves, a Global Geopark. Well worth a visit if you don't mind going deep underground. I also visited the Jampa Ling Buddhist Centre, one of the most peaceful places I'd ever been to. Walking and fishing holidays are also on offer. The Keepers Arms where I stayed on both my visits I can recommend for its wonderful hospitality.
That's quite a booktrail with many places and things to discover. Thanks Cathy!
Twitter:  @cathymansell3