Books set in a spooky old house
One dark night, in an old house with creaky floorboards…..  Why reading books set in an old old house scare me..
Clare Booktrailer
I love a good horror story  – Steven King was and still is a the King of Horror in my eyes but there have been quite a few recently I've read and thought that I would never sleep again. I'm not usually scared of the dark or things that go bump in the night. I've lived in some very old houses but there's just something about these books that give me the chills. When a book is set in the UK especially since I've been a tourist here more than elsewhere, I get a certain thrill as I've been to some of these places in the day time. At night, there's quite something else….
Enter at your own risk…….
Set in a creepy remote and desolate village called Crythin Gifford – fictional thank goodness as is the aptly named Eel House. The house is reached by Nine Lives Causeway and we all know what has nine lives – a black cat! Perfect for reading on Halloween or if you're anywhere near the Blackwater Estuary – this is where the film was shot and you can almost see Eel House from the edge of the marshlands….
Alfred Hitchcock was inspired by this short novel to go on and make it in to a film. If He thinks it's ghostly and creepy then who am I to argue. A serial killer is stalking foggy London and then a stranger knocks at your door wanting a room? This novel is short, quick to create tension and sparse at times but then that is the genius of it.
A woman wakes up in hospital and keeps having flashbacks of a woman who died in the house some 400 years earlier. Now she seems to be living that woman's life, having her thoughts and seeing things through that woman's eyes. A woman who felt the house was her prison and she died from falling from one of its towers…
Fenix House is where Grace goes to become a governess like her grandmother before her. But this is no ordinary house – instead it is a faded manor home, dark and cold, mysterious and creep with noises in the shadows and secrets in its walls.
This was a very creepy read as it was based on a house that Peter James actually bought and lived in. When you read what goes on there, fiction or not, I wouldn't have lasted the night!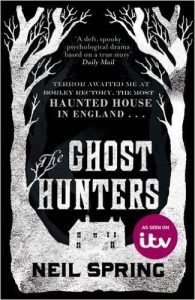 The ultimate creepy house – ten strangers killed off one by one by an anonymous assailant! Still one of the best Christie's ever I  think
A house inspired by Hampton Court in the Essie Fox novel – there's a painting of a wandering ghostly girl on the wall. Bet her eyes follow you as you pass by…
So frightening as this is the fictional account of a very real ghost if you believe the stories and legends passed down through history!
The inspiration for fictional Eilean Torran in the novel The Ice Twins. If you find identical twins freaky as well, boy are you in for a treat!
All the houses and buildings are scary and chilling in this story! There's lots of superstition, black crows both dead and alive, stuffed animals in a museum….marshlands and biting winds. Brrrrrr!
Any of these books will chill you in different ways. If you can read any of them whilst sat in an old house or at least one with creaky floorboards with just a candle for light, then you will get the biggest literary thrills and spills of your life!