The wonders of Wales – Snow Sisters – Carol Lovekin
There is something particularly fascinating about fictional locations….they might not be real so you can go to visit them on foot, but close your eyes, and they come alive from the words on the page. Such is the Welsh setting and background for Gull House, featured in Snow sisters. Carol Lovekin popped over to The BookTrail with her photo album to talk us through her Welsh landscape evoked so clearly, you can almost step inside the book and visit for real.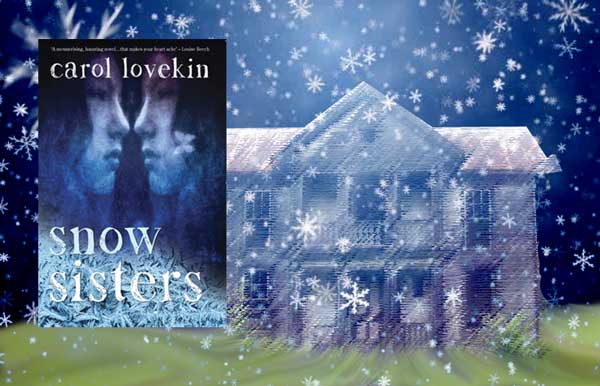 Trying to capture the essence of a fictional location is almost impossible. Mine are largely imaginary – 'loosely based' if you like. At best I can offer the inspiration for each of them.
The landscape of my adopted country impacts hugely on my storytelling. After almost forty years I don't research my Welsh settings so much as trawl my memory for places I've become familiar with. These locations form the basis of my imagined ones and it is an ambience rather than a reality I aim to convey.
Like its predecessor Ghostbird, my second novel doesn't go in for grand locations. Place and plot coalesce on a relatively small scale. Initially, the greater part of Snow Sisters takes place in Gull House and its surroundings: the garden and the beach.
Of all the settings in the book the house is my favourite. Not far from where I live in west Wales there is an old mansion overlooking a beach on Cardigan Bay.
Plas Tanybwlch was built in 1825 as a family home and in later incarnations served as an isolation hospital, a university halls of residence and a catering college. For a few years in the 1990s it was home to a German rock band The Scorpions, complete with recording studio and a shrine to Jimi Hendrix. In 2013 it was back on the market and finally, and rather ignominiously, in recent years it was converted into luxury apartments.
Because the location of Plas Tanybwlch was perfect I took my own liberties with this once grand mansion and conjured Gull House, a much smaller Victorian dwelling, above the beach beloved by Verity and Meredith.
The walled garden, with its magical blue flowers, plays a huge part in the story. This is entirely imaginary although I'm sure such gardens exist.
Even when the girls are forced by their mother to move to London to live with their grandmother in a house overlooking a London square, the locations remain contained. My love affair with Virginia Woolf's work and life hugely influenced my decision to feature a house not dissimilar to the one she lived in from 1904 to 1907 in Gordon Square in Bloomsbury.
At befits the snow theme of the book, I've also included this picture.
What a journey you've taken us on Carol. Thank you so much!
Booktrail Boarding Pass: Snow Sisters