Travel to Sweden with Caroline Eriksson
Swedish author releases new Family Noir series – Come Closer
Caroline Eriksson is back! This is the Swedish author who has already brought us The Missing set on a creepy Swedish island. Now, she's back with a gripping Family Noir style drama about a therapist named Simone Boman. Just released in Sweden, there's a lot of buzz about this author and her new series. So, I had a chat and a fika with her to find out more…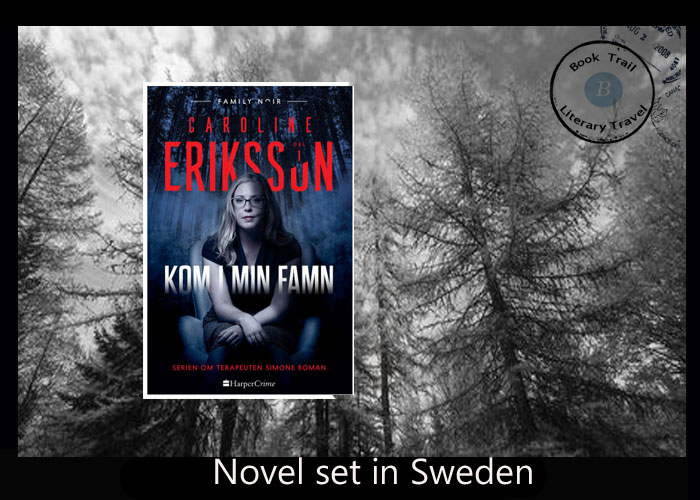 Especially when she explains that she thinks location is central to the way she tells her stories……
Caroline, hej!
From an island in Marhem to Vallentuna
In my new Family Noir series about the therapist Simone Boman, I finally get back to Marhem (the scene for my psychological thriller The Missing, 2017). This time, the setting is not a summer cottage surrounded by forest and a lake, but amongst everyday life in the suburbs.
Simone and her family live in Vallentuna north of Stockholm….
When they moved in, the townhouse on Gläntastigen felt like a dream. Now, with two pre-teenage daughters and a marriage falling apart at the seams, Simone feels trapped. She longs to get out and away from her current life and predicament. A crucial conversation between Simone and her husband Kristoffer takes place at Arkils Tingstad, a gathering place from the Viking era which is close to the townhouse.
In addition to Simone's immediate family, her mother and father-in-law also play central roles in the book. Under the surface, there are tensions in the relationship between Simone and her mother and during a coffee at the Stenugns bakery in Vallentuna Centrum, the situation comes to a head.
Through her work, Simone comes close to Thomas, a married father who wants to do the right thing and be a good person. But those precepts collide with reality when something unexpected happens.
After receiving several mysterious messages, Thomas goes to the theatre to meet the unknown sender.  The person he meets there turns his life upside down.
Simone, like Thomas, has a cabin in Marhem and both of their fates are about to collide spectacularly and violently. What happens changes the lives of everyone involved. Someone gets killed. Someone else becomes a killer. Is it a coincidence that it is happening in Marhem or are dark forces at play? Do people have an effect on a  place or can a place affect people?
This book is only out in Swedish for now…but hope that's whet your appetite for a Swedish author and setting to discover when the book is translated into other languages..
With many thanks to Caroline for agreeing to chat and offering such wonderful fika of a coffee and lussebulle. I am forever your friend!
Twitter: @caroline_e_son