Caribbean Island in the Sun with Janice Horton
The Island in the Sun set on the fictional Pearl Island
It's a globetrotting treat for travellers of all kinds, literary ones or otherwise. The story of a girl who returns to an island she left when young. Under a shadow of doubt. Now, she returns as she's inherited the island. But inheritance means looking into the island's past, and finding out more her family than she realised…
Let's visit the Caribbean Island in the Sun with Janice Horton…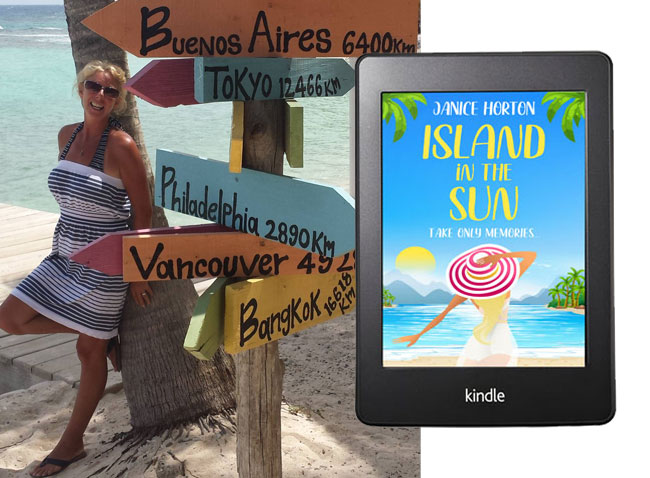 Where is your novel set?
Island in the Sun is set on in the Caribbean and on a fictional island called Pearl island.
What is special about the location?
I've spent a lot of time over the past few years exploring many islands in the Caribbean – and although Pearl Island in Island in the Sun is a fictional place – it's part in my imagination but also inspired by one of my favourite little islands in the Eastern Caribbean. That island is called Utila. It's just off the coast of Honduras and where I spent many months writing this story.
What is special about this book?
This book is special to me as I rather fell in love with all the characters while writing this story and they have stayed with me long after I finished writing it. I hope that readers will feel the same way. Island in the Sun is best described as an epic romance story with hidden pasts and family secrets set in a tropical paradise.
Any funny stories as you were writing it?
Well, I have a dramatic story to tell! I was on a Caribbean island and in the preliminary stages of research for writing a hurricane scene. I needed to find out how weather patterns developed to create a full-scale hurricane. It was during my research on the official hurricane website that I saw reports of a tropical cyclone alert in the Caribbean Sea.
Tropical cyclones can develop into tropical storms and hurricanes. All this was very interesting for a writer researching for a fictional hurricane, so I kept my eyes on it. And, over the next few days, I saw this cyclone gather momentum. I watched it become a tropical storm. Then I saw it had been upgraded with a Hurricane Alert Warning and it was coming our way! Our island was spared when the hurricane changed direction. But as a writer, I did value the experience of being directly involved in very real hurricane warning preparations, and the scene is now a pivotal part of what is an action-packed storyline in Island In The Sun!
What journeys have you been on recently?
In the past year, the backpacking husband and I have travelled around the whole world for the second time since we sold everything we owned five years ago and set off to travel the world. We travelled from Europe and spend some time in Asia, before we headed across the Pacific to the USA and onto The Caribbean – where we spent the whole summer – before finally crossing the Atlantic to arrive back right back where we started! Right now, and for the next few months, I'm in the South of France working on the sequel to my 2018 book 'The Backpacking Housewife' which is entitled 'The Backpacking Housewife – The Next Adventure' which will be published by Harper Impulse in 2019.
Travel Tips for readers?
My best tip is to travel light and take all the books you'll want to read with you on a Kindle!
Your main character – would they make a good travel companion?
Absolutely. Isla is one of the main characters in Island in the Sun and she would be an interesting person to know. Isla is also a successful jewellery designer who specialises in working with pearls. I went to a pearl farm as research for this book and found the process of producing cultured pearls absolutely fascinating. So, I'm guessing that you'd find travelling to the Caribbean with Isla, very interesting indeed!
What's next for you as author and traveller?
Unlike the past year, where I've whizzed around the whole world and had one book published – The Backpacking Housewife – I expect 2019 to be a busy year of concentrated writing and slow travel. I've recently signed a new book contract with HarperImpulse – the romance imprint of HarperCollins publishers – for another two 'backpacking' books to be published in 2019. So, after kicking off with Island in the Sun published on 4th January 2019, the plan is to have a total of three new romantic adventure novels out this year. Phew!
What does travel mean to you and what about the mix in writing about it too?
Travel means freedom and adventure to me. Once our children had grown up and left us with an empty-nest, we sold our home, our cars, our business, and everything we owned, to travel on a long-term basis. We have now been travelling for five years and have no plans to stop anytime soon. It is so exciting and wonderful to be able to travel the world and have fabulous life experiences and meet interesting people and this inspires my writing. I feel so fortunate to be able to work as a writer wherever I am in the world. When I'm not writing romantic adventure novels, I write for my website and also for magazines. I've had lots of lifestyle and travel features published in magazines and newspapers about our travel adventures and my books. Come and visit me on the web!
Thank you so much Janice for a fascinating tour of Pearl Island and its inspiration!
Twitter: @JaniceHorton  Instagram: instagram.com/janicehortonwriter/      Web: thebackpackinghousewife.com