Dirt Town Australia with Hayley Scrivenor
Dirt Town, Australia
Author Hayley Scrivenor takes us to a VERY interesting location today…
I'm always pleased when people tell me the setting was part of what they enjoyed about my debut novel, Dirt Town. The book is the story of young Esther Bianchi, who goes missing from her small Australian country community, called Durton.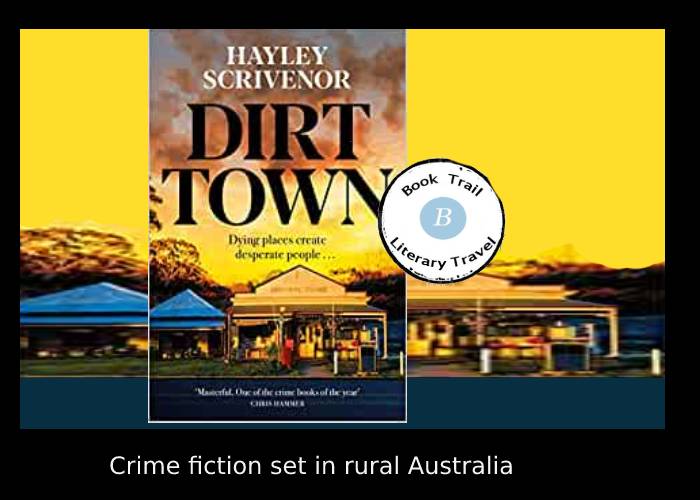 It's also an interesting choice to cover on the Book Trail, as Durton is an imagined town. (Yeah but it was SO fascinating to me!)
My book features sections which are narrated by a kind of 'Greek chorus' made up of Aussie schoolkids. 'Dirt Town' is a nickname these local kids give Durton, and it felt like a fitting title because for me, the book is about that place they share, the location where their childhood unfolds.
But the joy of something like the Book Trail is it's a way to find books set in real places that you might visit! After careful consideration, I figure it can't hurt to finally let slip on the internet (where things live forever) the inspiration for Durton.
I grew up in a town called The Rock, about twenty-five minutes southwest of Wagga Wagga, the largest regional city in New South Wales. At the time, it didn't strike me as an odd name for a town. One fun fact about The Rock is that the town was actually once called Hanging Rock (no, not that Hanging Rock, that's in the state of Victoria). Unfortunately, my town had to be renamed when the overhang fell off. I couldn't make this stuff up. It probably would not have rung true if I'd put it in my novel.
We left The Rock for a bigger town on the coast when I started high school, but I came back when I had a very substantial draft of Dirt Town. I'd been writing the novel for about four years at the point. It was strange to see places that I'd spent so much time imagining. As is often the case, many things looked smaller than I had remembered.
Yerong Creek
On this trip, a friend and I stayed at the nearby Yerong Creek, in a little converted church we found on Airbnb. Sadly, the motel that I'd used as inspiration for the Horse and Cane Motel – where my Detective Sergeant stays when she comes to Durton, looking for answers about what has happened to Esther – had just closed down a week or two before.
Dirt Town is a crime novel, and so awful things happen. I gave a fictional name to the town in my book because I wanted to be able to take liberties. Also, I wanted to describe what I remembered from my own childhood growing up in a small Aussie country town: a feeling, a fleeting impression, more a reflection of childhood itself than the living and breathing community my family and I actually lived in.
I was helped along in 'fessing up the location for this piece when I was recently contacted by my primary school librarian. Not only did she remember me (Scrivenor is a fairly unusual last name, after all), but she wanted to tell me that she'd read Dirt Town, and was a fan. Given that she wasn't offended I'd used The Rock for my own ends, I finally felt more comfortable sharing it with the world after playing it coy in interviews since the book came out.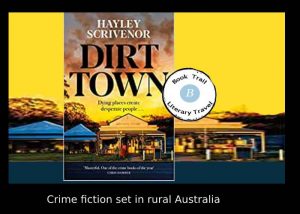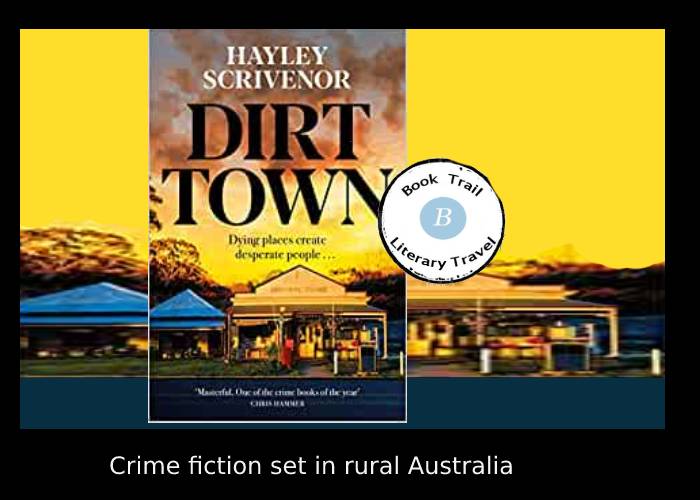 The truth is that even the small town where I grew up is so much bigger than what I could hope to get across in a book. The events and people of my book are entirely fictional. The Rock is a home for people whose lives are not the stuff of crime novels. It's also very much worth a visit if you happen to be travelling through the Riverina, in country New South Wales!
Thank you Hayley! A fictional location perhaps but it feels so real!
BookTrail Boarding Pass: Dirt Town
Insta: @hayley.scrivenor