Travel to Cornwall with The Invitation by A M Castle
The Inspiration behind The Invitation by A.M. Castle
Cornwall with the author….
It's such a treat to be here talking about the places that inspired my psychological thriller, The Invitation…..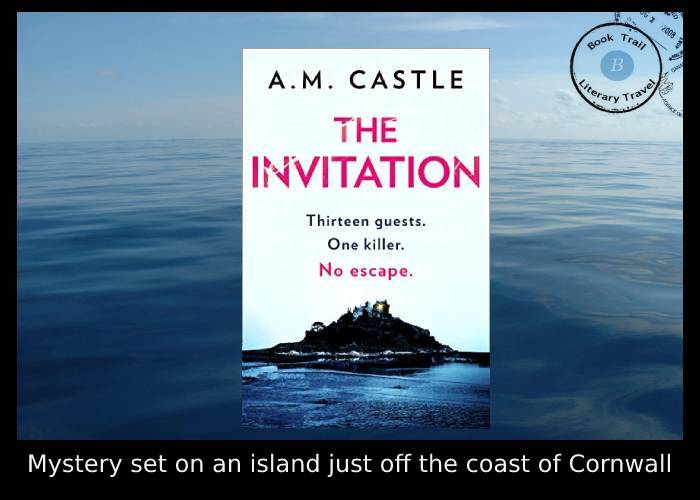 The book is set on Mount Tregowan, a tiny island off the coast of Cornwall. Mount Tregowan is fictional, but it bears a marked resemblance to not one but two real-life islands in the south west, Cornish St Michael's Mount, and Burgh Island in Devon. Burgh Island definitely has form as a whodunit backdrop, as it was the setting for Agatha Christie's And Then There Were None. And it is also home to a gorgeous Art Deco hotel I'm itching to stay at. St Michael's Mount is a bit more rugged, with a fabulous gothic castle on its highest peak, just like my heiress Rachel Cadogan's new home, Castle Tregowan.
In my books, I try to keep the suspense going for as long as possible, but here I'm just going to come clean. Mount Tregowan could be either island – but actually I was thinking of St Michael's Mount when I wrote the book. Not because I know the place well; I have never set foot there. But, you see, I really wanted to go there. A few years ago, I took a trip to nearby Marazion, close to Penzance, with the express intention of visiting the island, but somehow the tide tables got misread (I'm not blaming anyone but it wasn't my fault). I got to the causeway, only to find it was disappearing right in front of me as the tide came in fast. I dithered a bit too long – if I'd run, I'd probably have made it. As it was, the sea didn't hesitate and I had to return to the beach in flapping, damp trousers.
By the next day, we were back in London. It made me think. What if I had got marooned on the island, instead of staying safely ashore? With people I didn't like? In a storm? With no possible way back? And what if everyone had horrible secrets they'd been keeping for years, which one of their number was carelessly revealing here, there and everywhere…
When I finally sat down to write the story, I was living in Lewisham, London. In lockdown. Escaping whenever I wanted to, to my Mount Tregowan, felt like a holiday. Even dealing with the complications of alibis and timings, not to mention murder and a tempest, felt like a restorative walk by the sea. I could almost taste the salt in the air. You can go one better, and stay there for real, in one of the holiday cottages nearby, in the cove where the recent TV series Poldark was filmed.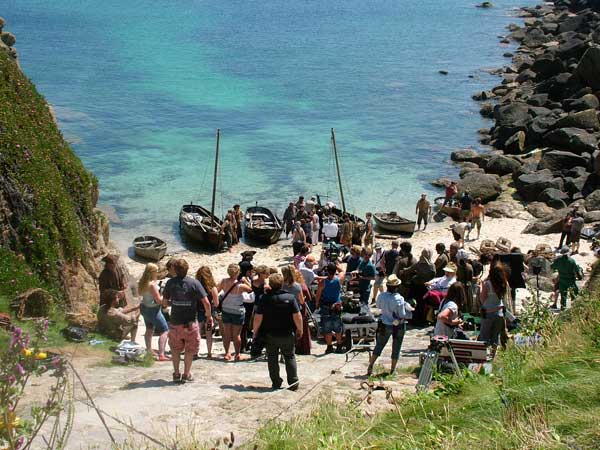 Of course it helped the book that I do know Cornwall, even if my Mount Tregowan is fictional. I've stayed there off and on since I was eighteen. The fact that two of my literary heroines, Daphne du Maurier and Agatha Christie, lived or wrote there has been almost as much of a draw as the rugged coastline. A few years ago, I stayed in a Landmark Trust cottage in Frenchman's Creek.
I loved the thought that du Maurier had used the setting in her book of the same name. And there wasn't a drop of WiFi anywhere, so I wrote seventeen thousand words of my whodunit, Revenge on the Rye, there, in the gorgeous velvety silence. Even spotting a spider literally the size of a dinnerplate in the sitting room didn't stop me.
Another time, we stayed in nearby Helford and happened to arrive on the day of the annual Regatta. The place was so pretty, with  all the boats, games and flags. That evening, though, the fireworks lit up the night sky and silhouetted the twisty boughs of the Monterrey cypress trees. Again, Cornwall seemed mysterious and slightly sinister.
Although Agatha Christie's house Greenway is in Devon, she did sometimes feature Cornwall in her books. One of my favourites, Peril at End House, is set in a Cornish resort. It might be Looe, as this is a very pretty spot where you can hire holiday cottages by the sea. Towards Zero, too, is a Cornish novel, featuring a new hotel with views of the water where some of the final action takes place.
A large part of The Invitation, takes place in Cornwall. However, the beginning of the novel also takes you to London's Soho, where two of the main characters always meet for lunch. I had fun basing this on far too many meetings at Soho House or the Groucho, during my time working on national newspapers in central London. They're just the sort of places that Vicky and Rachel would enjoy. I'd like to raise a glass to them – the finest champagne, naturally – and all the other characters in The Invitation, for keeping me occupied so splendidly during the last difficult year. My next novel, The Villa, is set on the Amalfi coast. The view has changed, it's further from the sea, there's a whole new cast of characters… and the plot is thickening nicely.
Twitter:    @AliceMCastle  web: /alicecastleauthor.com/