Northumberland – ANN CLEEVES, Vera, Joe and Jimmy Perez talk crime
On the booktrail today to help launch the new travel feel to the whole event – we met up with the lovely Ann Cleeves of Vera and Shetland fame. Now this is an author who lives and breathes the North East, and those far and distant Shetland Islands. Both are beautifully evoked and become major characters in her crime fiction. This lady knows about cracking crime locations, evoking a sense of culture and community.. and for bringing that unlikely crime fighter with the green mac..
It's a nice place we've come to chat – a quiet cafe in Vera country no less – and full of literary characters. Jimmy Perez has popped down from Shetland and is sitting opposite us in this Drift cafe near Cresswell where we are supping tea and eating cake  – giving us that steely glare that only he can. He wants us to talk about him first apparently. Vera is outside talking animatedly to Joe Ashworth . She'll be along in a minute… )
Your love of Shetland is well known and now you've produced a photographic homage to the islands. Why was this project important to you?
The Shetland book celebrates my 40 years of visiting the islands – I first went there in 1975 to work as a cook in the bird observatory in Fair Isle, the UK's most remote inhabited island. It was a way to capture some of my favourite places and to share my love of the islands with other people. I hope it'll persuade more people to visit. A lot of the pictures were taken by a local photographer.
Location is important in both your Vera and Shetland novels What does Shetland offer in particular?
The bare and open landscape provides a wonderful contrast to secrets hidden. Shetland is an interesting and vibrant community, which believes in the old traditions but looks forward too. Now the oil industry's contracting it'll be fascinating to see how the islands change.
What's your favourite Shetland tradition?
Up Helly Aa is famous and worth seeing at least once! It's the fire festival that takes place at the end of January, when groups of guizers parade through the streets carrying flaming torches and then set a beautiful Viking galley alight. The party continues all night.
Song?
There's a lovely fiddle tune that celebrates New Year, but I can't remember its name! It was used as the background music to the radio 4 adaptation of Raven Black.
Word?
'Peerie'. It means small and I was delighted to hear it as part of the dialogue in the first episode of the new series of the BBC drama SHETLAND.
Your marathon library/book tour of Shetland was epic! What is your best memory of that time?
We had such a fantastic time over that day. It was a challenge to see if we could run reading events in 24 islands (Orkney and Shetland) in 24 hours. Probably the best memory was counting down to the end of the challenge with pre-school children in the community school in Unst – the most northerly island in the UK. We were all pretty tired by then…
Then an middle aged woman in a green mac wandered into our conversation……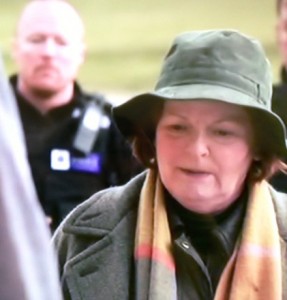 Vera has solved crimes in and around Northumberland but is there a place you think she would like to visit in a future book??
I'm just starting a new Vera book now, so I'm trying to place the action. I think it'll revolve around a cold case that happened in the shipyards years ago, so I guess it'll be set in Wallsend. But I haven't started writing yet so I might change my mind altogether.
Vera investigates places such as Valley Farm in the Moth Catcher and a rather creepy literary retreat in the Glass House. Even though you sometimes disguise names, these places are all real to you?
Valley Farm was actually based on a place in mid-Wales where we lived when we were first married. We rented an attic flat in a big country house near the village of Kerry. I just moved the location to inland Northumberland. The Glass Room location was entirely made up. Some settings are very thinly disguised though. Mardle in Harbour Street is very much like the village of Amble.
Where would you take Brenda Blethyn for a nice Northern cup of tea?
Maybe here – in the Drift Cafe?  Not too far from home and they do fab home-made cakes. We could have a walk along the beach afterwards.
Would you ever 'do a Dickensian' and have Vera go to Shetland and Jimmy Perez. move to Northumberland maybe to help each other out in some way? A link up or mash up of cases?
I'm not sure that would work for a story. Maybe TV would do it for something like Comic Relief or Text Santa?
And with that, Ann and I leave the cafe for now, Vera and Jimmy and Joe walking beside us until we are a few yards from the cafe before they disappear back into their literary world. But with the words of Ann Cleeves, you only have to pick up one of her books to know that they're always around.
Susan booktrailer
Booktrail Boarding Pass Information:
Twitter: @AnnCleeves
Facebook: /anncleeves
Web: anncleeves.com