London bound with Louise Voss
Hampton Court….. Seems like a nice leafy part of London where you might think nothing really happens…not in those lovely houses…but behind the curtains….Louise Voss is here to tell us more.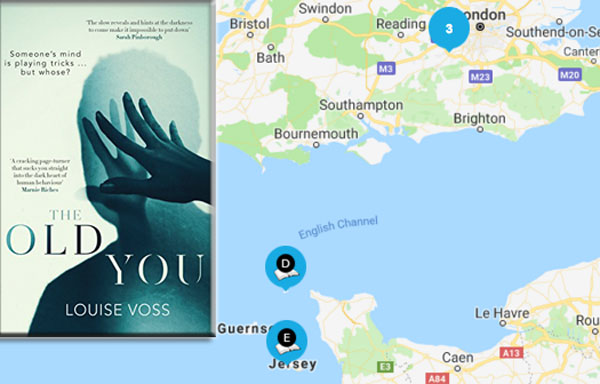 First of all, your cover is stunning!  Thank you! I love it too – and apparently the finished version's going to be even nicer – haven't seen that yet.
Now if ever there was a dysfunctional marriage- this is it, isn't it? You must have had some fun researching this!
It is one of those confusingly complex marriages – both parties know the other is flawed, but has no idea quite how much. There are so many secrets between them – but there's always also been a lot of passion and love as well, which has papered over a lot of cracks. To be honest I didn't research that part of it at all, it just sort of evolved as the characters developed.
Location, Location, Location….
Much of the book is set in the area where I live, suburban south-west London near Hampton Court and the Thames. The lock-keeper's cottage that Ed and Lynn live in doesn't exist, although I have a very clear image of where it is. There are a few houses that look out over the river, a couple of miles downstream from Hampton Court Bridge, and I've always found it interesting that they aren't on a street, but just on a footpath that runs along the river. Must be lovely to look out of your front room window straight onto that stretch of the Thames.
Tips about visiting the locations in your novel. Did you visit them to research this book?
I did visit Alderney (several times, because it's such a fantastic place). Most of the other locations are local to me, or, like the Barbican, places I've been many times. There's one location that I've never visited but would love to –  but I can't discuss because it gives too much away.
Why is the story important – its message?
I haven't ever thought about it as having 'importance', or any particular message – I never do with my books. It's more about telling a good story that, in the case of the crime novels, keeps people guessing. I suppose, thinking about it in retrospect, if there is any sort of message it would be a warning that sometimes you really don't know people half as well as you think you do. A salutary tale!
Your novel is very dark and gets inside your head..how did you relax and escape from that when not writing?
I never needed to.  I mean, obviously I need to relax, but for me it's the writing that's the welcome escape from the trials and tribulations of daily life, rather than the other way round.
Your novel would work well on television – Doctor Foster-esque but better. Any ideas for a cast?
Thank you very much! I hadn't thought about it until now, but I'd love Maxine Peake or Sarah Lancashire for Lynn..  And I'll have Sean Bean for Ed, please. I'm really glad you asked me, as I've just remembered that Mr Bean is a friend of a friend… am going to enquire if he could get the book over to him!
If you could tell the Old You something, what would it be and why?
Pay attention to your intuition. If something seems like a red flag, it probably is. I had a terrible experience about ten years ago with a so-called good friend and learned that lesson the hard way.
We all love a unreliable narrator and a web of lies don't we? Was it hard to plot this kind of thriller?
We do – until it happens to you in real life!  The 'friend' I mention above turned out to be a compulsive liar and narcissist – this isn't a spoiler, and isn't at all what THE OLD YOU is about, but I did draw on some of the emotions I experienced when I began to suspect that a friend I loved perhaps didn't have my best interests at heart after all…!
And yes, it was very hard to plot. Plotting is not my strongest suit anyway – which is odd as most of my books tend to end up with fairly complex plots – but wow, this one took a lot of getting right (There are a LOT of grateful thank-yous in the acknowledgements!)
Thank you so much Louise! (The lovely Louise will be answering  my questions live at Newcastle Noir this weekend!)
BookTrail Boarding Pass: The Old You 
Twitter:  @LouiseVoss1     Web: vossandedwards.com