Cuppa and cake in the Cotswolds – JILL MANSELL
I may have been covered in cake dough and been finding cherries down the back of the cooker for the past few days, but that' s only because I've been preparing for today. For popping down to the Cotswolds and meeting Jill Mansell. She's a bit partial to a cherry bakewell apparently and Victoria Sponge, so because I'm not Mary Berry I've had to practise. And practising means sampling doesn't it?
I take the tupperware, board the steam train and before long, I'm in Jill Mansell country. Ah it's a lovely trip to Stanton Langley (fictional but on so real in my mind's eye). I read her book again on the train, look at the blue sky racing past, drink elderflower cordial and dream. Then at the station, Jill is there to meet me. After a short walk to her gorgeous Cotswold cottage with flowers all around it, I sit down on a flowered covered rug (in pic) and we chat #YouandMeAlways
We've drawn up the literary locations here – http://www.thebooktrail.com/book-trails/you-and-me-always/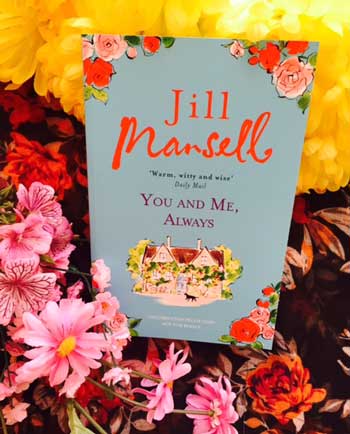 Lily receives a letter from her mum that she wrote when Lily was only 8. Who from the past would you like to receive a letter from?
Well, shortly after I was born, my incredible mum was widowed and diagnosed with leukaemia, so she really didn't expect to live very long at all. Except she did, which is excellent, and amazingly she reached her seventies – even more excellent. But I realise now, as I write this, that she never wrote a letter to me in her lifetime, and I would have loved to receive one. So I shall say the answer is my mum!
What is it about the Cotswolds that you love so much?
I grew up there, but was less appreciative of its great beauty back then – as a teenager, all I cared about was the lack of a glittering night-life. Now I yearn to move back, and may do so one day – you never know!
Where is Stanton Langley based on in the Cotswolds?
It's an imaginary village, but there are hundreds of real ones dotted around the countryside. I did love Chipping Norton when I visited a while back for their literary festival – I think maybe it inspired me a bit!
Lily and the other women have such complicated love lives but remain so friendly and upbeat. Do you think female friendships are worth their weight in gold?
Absolutely!  I love my female friends and would do anything for them.

Which character did you enjoy writing about the most?
In this book, my favourite is probably Dan because I just love writing witty dialogue from a bad boy's point of view. But it's cruel to ask me that question, because I love all my characters so much, even the naughty ones! We all make mistakes!
Are the other female characters or even male based on any one you know? Do you have a picture of Eddie in your head when you write?
I never have a picture of any of my characters in my head when I write them. I need to keep a list of their physical characteristics to refer to, because even at the end of the book I still don't know what they look like. But I know their personalities inside out – which is a stroke of luck!
The cover is gorgeous and really sets the scene! What's your favourite flower?
Thank you – I love my covers too. My favourite flower would have to be the bird of paradise – although I don't suppose too many of them are found growing wild in the Cotswolds! I just love them because they're so outrageous and exotic and bright.
Could you recommend five places we should visit in the Cotswolds to 'experience' your novel?
Okay well for a start, Chipping Norton is a great place to visit, as is Castle Combe, which is close to where I grew up, and tiny and very beautiful. (I've set a couple of my books there, and Staying at Daisy's is based on the fantastic Manor House Hotel in Castle Combe.) I went to school in Tetbury and went back for a reunion last year, which was brilliant. (Rumour Has It was set in Tetbury, but I changed the name to Roxborough.) Hmm, where else? Moreton in Marsh, Stow on the Wold and Broadway – they're all such stunning places I can't choose! But if anyone wanted to really see the area at its best, they should think about walking The Cotswold Way.
And if that looks exhausting, you can pick a smaller section – it isn't compulsory to do the whole lot!
Be sure to check out the rest of the tour and take a look at the literary locations here – /book-trails/you-and-me-always/