CCC – Travel to Portobello with Emma Christie
Emma Christie's Portobello
Last but certainly not least – Emma Christie has come to BookTrail Towers today to chat all things Caledonian Collective and giving us of her wonderful Portobello which inspired her writing..
When readers (and tourists) of think of Edinburgh they've usually got the Old Town in mind, a place of towering tenements and narrow closes, each one packed with history. They'll picture the castle, the sweeping gardens at its feet and the elegant New Town beyond it. Chances are they're not thinking of a curve of golden sand and a beach promenade dotted with wooden tables so locals can sip drinks while admiring big skies and a calm sea.
But that's what Edinburgh means to me now.
Portobello, the city's seaside community, was never on my radar. I visited there by chance in the summer of 2014 when a friend who'd just moved there asked me to pet-sit her guinea pigs. I said yes, and life changed. As did my writing.
At that stage of my career I'd been signed to my agent for five years but both the novels I'd written had been rejected by publishers far and wide. Those first two books were set between Mexico and Guatemala, countries I'd been living in while I wrote them. But time and again the rejection letters said the same thing. We love the story, but not the setting.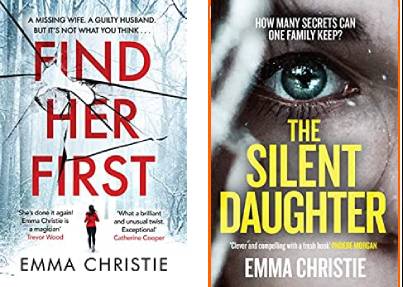 It was my agent who suggested I choose a Scottish location for my novels, something that I'd never considered. Where would I choose? I was born in south-west and went to university in the north-east but the place I was most drawn to as an adult was Edinburgh. In terms of crime fiction, I quickly concluded that city belonged to Ian Rankin.
But then those guinea pigs entered my life, and with them, Portobello. I'll never forget that first morning at my friend's house, turning out of her garden and finding myself at the beach. I was stunned, delighted and in love. And I knew right then that this was the place I wanted to write about.
Why? First of all, it's a joy and a challenge to try recreating its beauty on the page. The big open skies and the sea are brilliant for creating atmosphere – and the ever-busy promenade is a great place for people watching – and for people being watched.
Portobello is small enough that it's feasible for characters to meet people they know in the street and friendly enough for everyone to know their neighbour – and to know of many other people who live in the community thanks to lots of events, bars, cafes and active online groups. This means it's realistic for characters to bump into each other during the course of each book and to hear about rumours and such like. My novels are all standalones but since they're all set in Portobello I've managed to create a few cameo appearances which is very good fun.
In addition to all of these benefits, Portobello is close to Edinburgh city centre so I often shift the action to there. In an instant that brings a different backdrop and mood to my stories, plus it's a handy way to introduce a shadier kind of character! I also love Arthur's Seat, the hill that overlooks the city. Again, exposure to a little bit of wilderness and the weather it brings is a great way to draw the reader in and change the feeling between different chapters.
Where the buses of Portobello drive – with Portobello Bookshop in the distance
I'm currently working on my third novel which follows the life of a bus driver called Dave Kellock. His route runs from the coast close to Portobello all the way through the city centre and beyond. As a writer it's a brilliant opportunity for me to further explore the many neighbourhoods of the city, and to take readers with me. The research for this one is the best so far: I just buy a day ticket on the bus, sit back and watch the city roll by.
Twitter: @theemmachristie  Web: emmachristiewriter.com